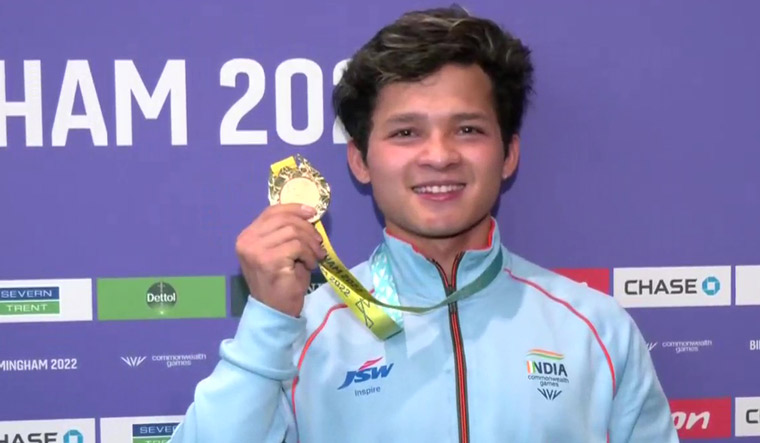 Jeremy Lalrinnunga at the age of 19 earns a Gold Medal at the CWG, 2022. Picture credits - Google.
Sports Trumpet interacts with CWG Gold Medalist Jeremy Lalrinnunga
19 year old Jeremy Lalrinnunga got India their 2nd Gold Medal at the Commonwealth Games, 2022, being held in Birmingham.
After a memorable performance by Olympics Silver Medalist Mirabai Chanu, who got India's 1st Gold, teenager Jeremy Lalrinnunga won a Gold in Men's 67 kg final in Weightlifting.
While Mirabai Chanu won a Gold Medal in Women's 49 kg Weightlifting comfortably, Jeremy Lalrinnunga did it the hard way, fighting through pain to clinch a memorable Gold in Men's 67 kg.
Jeremy lifted a total of 160kg in the clean and jerk segment to finish with a grand total of 300kg, which is also a new CWG record.
Following his successful performance in the CWG, Jeremy came in front of the camera to answer all the questions the Journalists were ready to throw at him.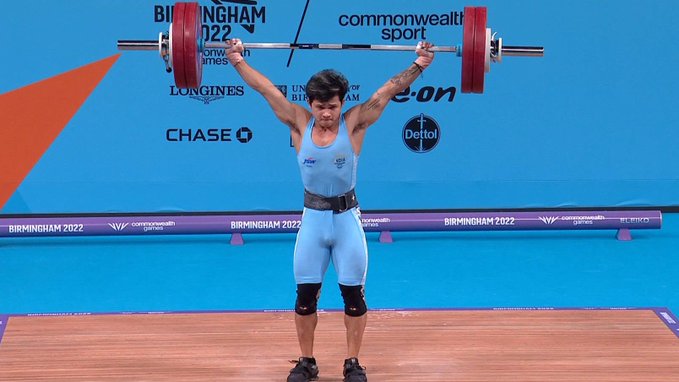 This included Sports Trumpets' very own Journalist, Neelam Sharma, who got the opportunity of asking a couple of questions.
First up, Jeremy was quizzed about the inspiration that helped him fight through the injury and win a Gold Medal.
"I was determined to prove myself this time. Despite my injury, my coach was motivating me to give my best, to perform to my potential. Along with the motivation, coach sir also proved to be fruitful in terms of calculating and setting a target for me."
"His calculations showed this is the weight that I need to lift to get a Gold Medal. This is the reason that while being injured, I was able to earn the Gold Medal."
Also watch: https://fb.watch/eCzUulpbA-/
Next, Neelam asked Jeremy about the words of advice that fellow Gold Medalist Mirabai Chanu had for him.
"Mira Didi is a great motivator. Even before the competition began, she came to meet me, to motivate me to do well. In fact, she was at the front in the audience, when I was lifting weights, competing for the Gold."
"She has motivated and helped me a lot. I am inspired as to how much efforts she has taken, to not only feature at the Olympics, but also finish on the podium."
Lastly, Jeremy shared that the Medal that he has earned today is dedicated towards his grandparents. It's they, who have been credited by the young star, post his success in Birmingham.
"Dada and Dadi have always been my biggest well wishers. They have always prayed for my success. It's my Dada, who prays the most for me, in my family."
"My Dada has suggested a mantra and I make sure to recite it, before I go on to lift a weight. This is the reason I credit my Dada and Dadi the most for my success."
This was India's fifth medal from the weightlifting arena with Mirabai Chanu (gold), Sanket Sargar (silver), Bindyarani Devi (silver) and Gururaj Poojary (bronze) earning podium finishes on Saturday.