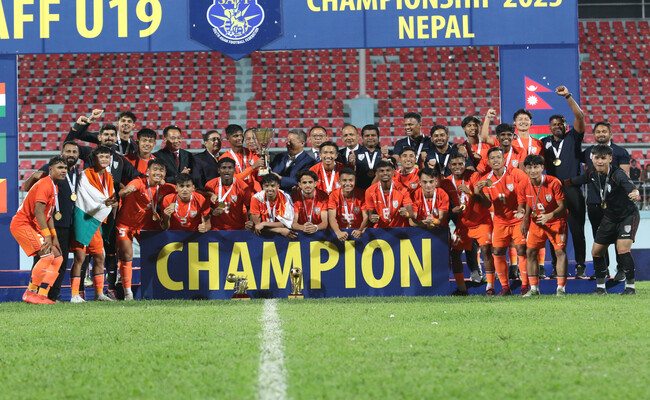 CHAMPS!!! Triple-strike Blue Colts send crippled Pakistan packing
The pivotal moment unfolded with Kipgen delivering a breathtaking goal from just beyond the box.
The sequence began with Kipgen's attempt to set up a teammate within the box, only to have the pass blocked by Muhammad Azan. However, Kipgen seized the rebound. With precision and finesse, he unleashed a curling shot with his right foot that left the Pakistan defence in awe, propelling India into the lead.
In the 85th minute, Kipgen located a gap in Pakistan's defensive wall and delivered a beautifully curled free-kick. What added to the spectacle was the clever move from another India substitute, Kelvin Singh Taorem, who made a run in front of the Pakistan defence. Pakistan goalkeeper Gul anticipated Taorem would take control of the free-kick, but Taorem exhibited a remarkable presence of mind and allowed the ball to pass through. This unexpected decision left Gul perplexed as the ball found its way into the back of the net and extended India's lead.
India wrapped up the match in style in the fifth minute of added time when Kipgen's well-directed cross was headed home by Gwgwmsar Goyary for his third goal in the tournament.
Pakistan were reduced to 10 men towards the end of the match when Ali Zafar was sent off for his second yellow card offence.
India U19: Lionel Daryl Rymmei, Ishaan Shishodia, Ricky Meetei Haobam, Manabir Basumatary (Surajkumar Singh Ngangbam 46th minute), Raja Harijan, Gwgwmsar Goyary, Naoba Meitei Pangambam (Kelvin Singh Taorem 81st minute), Sahil Khurshid, A Siba Prasad, Ebindas Yesudasan (Manglenthang Kipgen 46th minute), Thomas Kanamoottil Cherian.
Most Valuable Player:
Manglenthang Kipgen (IND)
Top Scorers of the Tournament (all 3 goals):
Gwgwmsar Goyary (IND)
Jigme Namgyal (BHU)
Samir Tamang (NEP)
Best Goalkeeper:
Lionel Daryl Rymmei (IND)