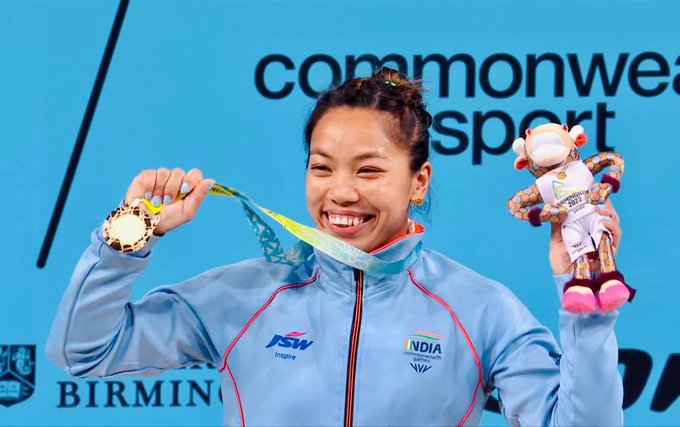 Mirabai Chanu clinches Gold at the CWG 2022 in Women's 49 kg Weightlifting.
Sports Trumpet's interaction with Gold Medalist Mirabai Chanu
"India ka Hira" Mirabai Chanu gets the first Gold Medal for India at the Commonwealth Games taking place in Birmingham.
In the CommmonWealth Games 2022, Tokyo Olympic Silver Medalist, Mirabai Chanu went 1 step further, clinching the Gold Medal in Women's 49 kg Weightlifting.
Mirabai Chanu is an Indian Weightlifter, hailing from the state of Manipur. Yesterday, she lifted a total of 201 kg – 88kg in snatch and 113 kg in clean and jerk, to clinch the Gold. She also went on to create a personal record, whilst achieving the medal.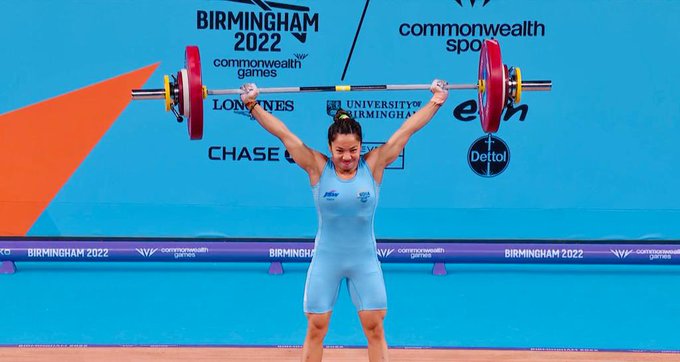 To put Mira's dominance into perspective, Marie Hanitra Ranaivosoa of Mauritius, who clinched the Silver Medal at the Games, was a whopping 29 kg behind Mira's 201 kg lift!
Following the memorable achievement, Mira came in front of the camera, where she shared her elation with journalists from India. Sports Trumpet journalist Neelam Sharma was one of the few reporters, whose questions Mira answered.
Neelam asked Mira to share about the moment, when she saw the Indian Flag rise the highest.
"Today, I am very happy. Seeing the "Tiranga" fly high because of me is an honorable moment, one I will never forget in my life."
"I felt goosebumps, on seeing the Sports Ministers present, cheer for the Country and me. I had tears in my eyes as I stood there seeing my Country's flag fly high."
"It was a proud moment, one I will never forget. I hope there are many more such moments, where I can do my country proud."
Mirabai Chanu's Gold capped off a memorable day, where Sanket Sargar and Gururaja Poojary clinched a Silver and a Bronze Medal in Men's 55 kg and Men's 61 kg Weightlifting, respectively.