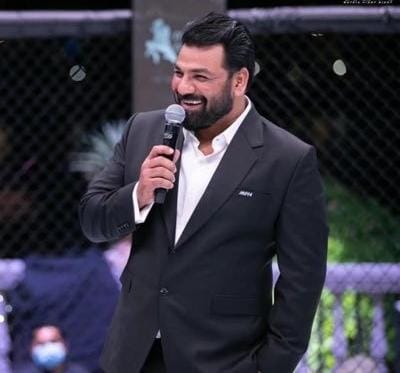 Sports Trumpet exclusive: Alan Fenandes shares his thoughts before the start of MFN 8
Alan Fenandes is excited as the 8th season of MFN begins tomorrow.
In an interview with sports trumpet, Alan Fenandes speaks about how it all started, what expectations he has from the upcoming season of MFN.
Journey of Mr. Alan Fenandes
Mr. Alan Fenandes is a former fighter who is now the Director of Operations for Matrix Fight Night.
Alan Fenandes was the first fighter that the country had seen. His first fight was in 2002.
20 years later he is one of the most renowned names when it comes to fighting. He has had a major role in the development of MMA as well as MFN in India.
There is no fighter from this country who has not trained under Alan. This speaks volumes of his achievements and his talent.
He alongside the Shroff family has finally set a platform for the upcoming Indian fighters.
Also read: https://www.sportstrumpet.com/ayesha-shroff-shares-her-2-cents-ahead-of-the-start-of-mfn-8/
How did it all start?
Mr. Alan has credited the Shroff family for helping him in building a stage where Indian fighters can showcase their talent. MFN began in 2019 March. MMA was an important part of the Shroff family and they together decided to start MFN. Now it is having its 8th season, 2nd in Delhi.
This shows how successful the competition has been over the past 3 years.
What does he expect from MFN 8?
Mr. Alan revealed that he is very excited about the upcoming season.
He is also excited that the tournament is happening in Delhi. He stated that there are many fighters who have come from North India.
He also explained how MMA is different from other forms of fighting.
He stated that MMA is a mixture of all the other forms of fighting. The fighters from different sports came together to form a common set of rules for MMA. This is the ultimate form of fighting.