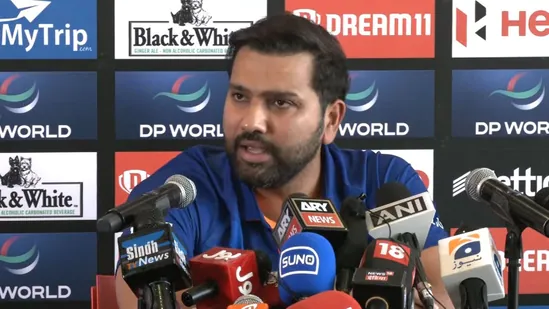 Rohit Sharma Press Conference
WATCH: Rohit Sharma 's press conference is as much interesting as his Pull Shot
Rohit Sharma is known for his witty style. The hitman, who often surprised people with his long sixes, stunned the journalists ahead of the match against Pakistan.
No series was played between India and Pakistan for the last 10 years. Both the teams clash only in ICC events. Despite many experiments by India's head coach Rahul Dravid, who has become Corona positive, India has the same top order, which played in the T20 World Cup last year. In such a situation, everyone wants to know that what will be India's playing XI in the first match of Asia Cup? Which 11 players will get a place against Pakistan? A day before the match, Indian captain interacted with the media and gave funny answers to many questions.
Before the crucial match against Pakistan, Rohit Sharma was asked about his fellow partner, to which the Indian captain gave such an answer that the journalists started laughing. After the return of KL Rahul, it is expected that he will come to open with Rohit. The 29-year-old opener has not played much cricket in 2022 due to injury and Covid.
Rishabh Pant has also recently opened for India. Suryakumar Yadav has also been tried in the same position, but the Indian captain was in no mood to give any information to his rivals before the match. During the press conference, one of the journalists asked if Virat Kohli could be tried as an opener as well, to which Rohit Sharma replied, 'Aap kal dekh liyega, toss ke baad, kuch secret hame bhi rakhne do yaar.'
Rohit also answered questions on Virat Kohli. According to Rohit, 'Kohli is batting well in the nets. I did not feel that Virat is putting too much effort, he is the same as he was before. Yes, he has taken a month's break and is coming back refreshed. Regarding DK, Rohit believes that he has never let the team down. Even before his return, he has won by playing many important innings.