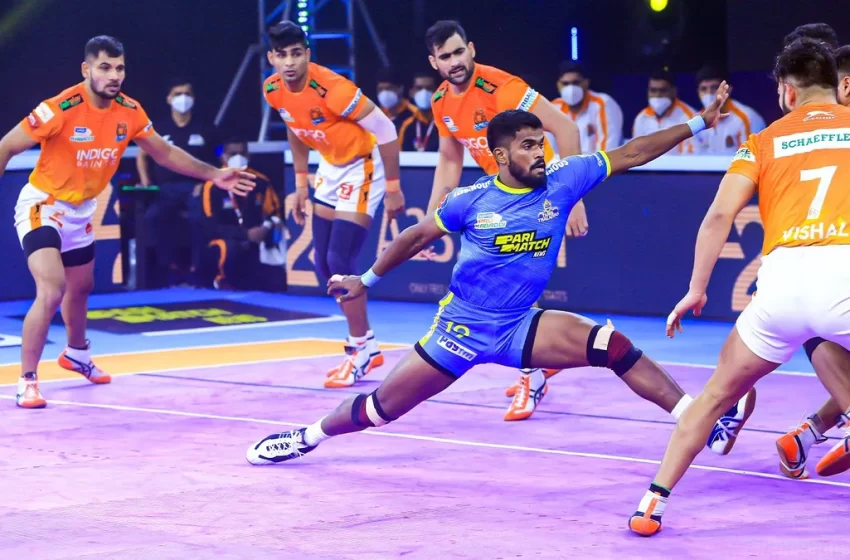 Image: Pro Kabaddi/Twitter
Thalaivas Registers First Win In Season 8
A Super 10 off the bench from raider Ajinkya Pawar saw the Tamil Thalaivas beat the Puneri Paltan 36-26 and register their first win in vivo Pro Kabaddi Season 8. Raider Manjeet had a stellar first half and finished the night with eight raid points, while Pankaj Mohite led the way for the Paltan in scoring with eight points.
The Thalaivas were off to an incredible start, courtesy of Manjeet, who picked up seven points in seven minutes to reduce the Paltan down to a solitary man. The Thalaivas' defence made no mistake in pinning the Paltan's final man to inflict the game's first All Out and take a 12-4 lead.
Prapanjan came off the bench and helped the Thalaivas extend their lead to 10, who threatened to go into the halftime break with a massive lead. But the defence and raider Pankaj Mohite helped the Paltan swing the tide of the contest in their favour, as they combined to outscore the Thalaivas 4-1 in the final three minutes to go into the break trailing by six.
Just 30 seconds into the second half, raider Aslam Inamdar got rid of the final two Thalaivas on the mat to help the Paltan inflict an All Out and cut his team's deficit to just three. The Paltan threatened to take the lead, but substitute Ajinkya Pawar flipped the game on its head.
The raider picked up seven points in eight minutes to help the Thalaivas reduce the Puneri Paltan to a solitary player on the mat. The defence allowed the raider to pick the bonus as they stayed compact, compelling him to force the issue, which caused him to make an error, rendering his team All Out and giving the Thalaivas a seven-point advantage.
Pawar then completed his Super 10 with a Super Raid, which put the result beyond doubt. The raider almost managed to wipe out the entire Paltan defence with another Super Raid, but they reeled him in inches away from the midline to retain hopes of salvaging a point from the contest.
But it wasn't to be, as the Thalaivas defence pinned down Mohit Goyat in the penultimate raid of the match to retain their 10-point lead, which is how the game finished.
Top Performers
Tamil Thalaivas
Best Raider – Ajinkya Pawar (11 Raid Points)
Best Defender – Surjeet Singh (3 Tackle Points)
Puneri Paltan
Best Raider – Pankaj Mohite (7 Raid Points)
Best Defender – Vishal Bhardwaj (4 Tackle Points)