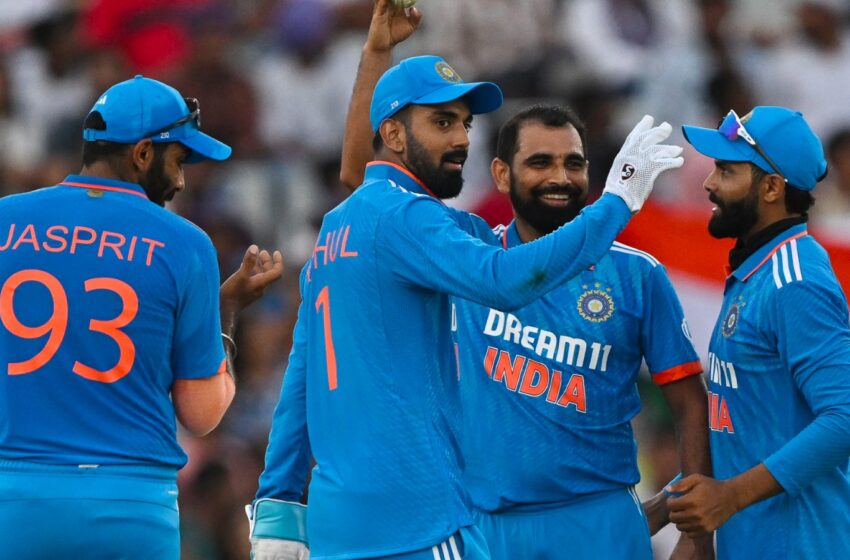 Team India
Senior pacer backs India's rotation strategy going into the World Cup
India's policy of rotating their fast bowling options ahead of the ICC Men's Cricket World Cup 2023 has received support from their veteran pacer.
India have practised a rotation policy for their seamers since the start of Asia Cup. This has meant that only two of Jasprit Bumrah, Mohammed Siraj, and Mohammed Shami have featured in the playing XI at any given time.
This has also meant that medium pacer Shardul Thakur, who is more adept with the bat, has received more chances. While this has helped extend India's batting, this has meant that there are reduced opportunities for India's full-time fast bowlers. 
Shami, for one, featured in only two Asia Cup encounters. He played the first ODI against Australia at Mohali, and delivered a match-winning five-wicket haul.
Despite these returns, given the rotation policy, Shami's position in the playing XI isn't fixed. However, the Bengal pacer is unperturbed by these developments.
Speaking at the press conference after India's win, Shami backed the policy. He stressed the importance for players to understand their roles, whether they make the playing XI or not.
"This is a part and parcel of the game. It's important to understand the team's needs. It isn't possible that you'll always be part of the playing XI and team combinations.
"When we play regularly, someone or the other will have to sit out. There is no point being frustrated about it. Obviously it's good if you're in the XI but it's also crucial to be understanding when on the bench. That role is also very important."
Shami believed that the results showed that rotation was going well for the side before the World Cup, and it helped give game time to players.
"The idea from the team management is to rotate according to the conditions and the situation, or depending on the opposition," Shami added. "They know how to handle it and if you see, the recent results have been quite good. The rotation is going smoothly and before the World Cup, I don't think anyone should be burdened a lot."
"It's good for us because rotating pacers is key in such conditions. It's more important for bowlers, not
"It particularly helps those who haven't been in rhythm to get some much-needed game time."
India's batting fired in a crucial chase at Mohali, with World Cup-bound Shubman Gill, KL Rahul and Suryakumar Yadav performing well.
Shami added that these performances against a strong opponent bode well for the team ahead of the World Cup.
"Before a big event, when you play such games against a strong opposition, it's important for the batters to do well. Confidence is the key. Getting such a boost before a big event is always great for the team. It's crucial that the batting and bowling departments are both firing together. I think that's the best preparation."
After the ongoing ODI series, India will play two warm-ups prior to the World Cup, against England and Netherlands respectively. They kick off their World Cup campaign against Australia in Chennai on October 8.