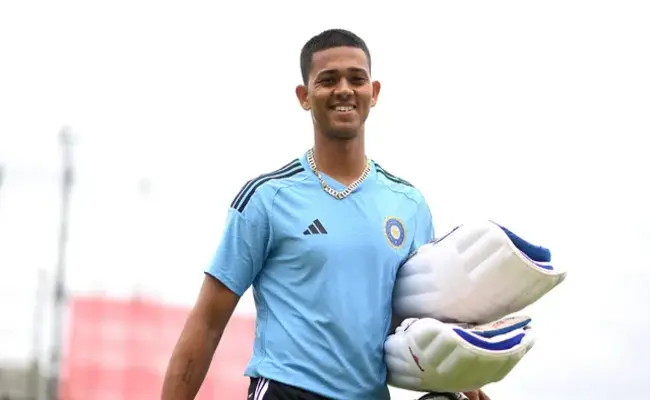 Rohit Sharma confirms debutant and combination for 1st Test
Rohit Sharma the captain of the Indian team confirmed that he would have a new opening partner in the first Test match against West Indies that begins in Dominica on July 12.
In their first Test match of the ICC World Test Championship 2023-25 cycle, India will field a new opening combination with the skipper set to be partnered by 21-year-old left-hander Yashasvi Jaiswal.
Jaiswal comes off the back of a stellar performance in the domestic circuit across formats, including a brilliant season in the Indian Premier League.
The left-hander, who was the Player of the Tournament at the 2020 U19 Cricket World Cup, was a stand-by squad member for India's World Test Championship 2023 Final against Australia last month and was called up to the Test squad for the series against West Indies.
Jaiswal has played only 15 first-class matches, but averages over 80 in those, with nine hundreds and a highest score of 265.
With Jaiswal confirmed at the top, Rohit's incumbent partner Shubman Gill will go down to No.3, according to the skipper, to fill the spot vacated by Cheteshwar Pujara, who wasn't considered for this tour.
"Gill will play at number 3 because Gill himself wants to play at number 3," Rohit said ahead of the first Test on Wednesday.
"He discussed with Rahul (Dravid) that I have played all my cricket at 3 and 4. I think I can do better for my team if I bat at number 3. And it is good for us too because it becomes an opening combination of left and right.
"So I think we will try to do this and hopefully this will go on for a long time. Because we have been looking for a left-hander for many years. So now that we have got that left-hander, let's hope he performs well for the team. And he can really make that spot his own."
Vice-captain Ajinkya Rahane had earlier hinted at Jaiswal's inclusion in the XI and left a message for the youngster.
Read More: Rahane message for Jaiswal ahead of potential Test debut
"Firstly I'm really happy for him [Jaiswal], he's a really exciting talent. He did really well in domestic cricket for Mumbai, did well in the IPL as well. Most importantly, the way he's batting in red-ball (cricket). He did well in the Duleep Trophy last year too.
"My message to him will be just to express his batting the way he's been batting, not to think too much about international cricket and all.
"It's all about, I think, going out in the middle and playing your game, playing with freedom. That is very important. I'm really happy for him."
India are also set to play two spinners in the first Test according to Rohit Sharma. Although he did not confirm who the spinners were, Ravindra Jadeja and Ravichandran Ashwin are primed to take the two spots with Axar Patel the other spinner in the squad.