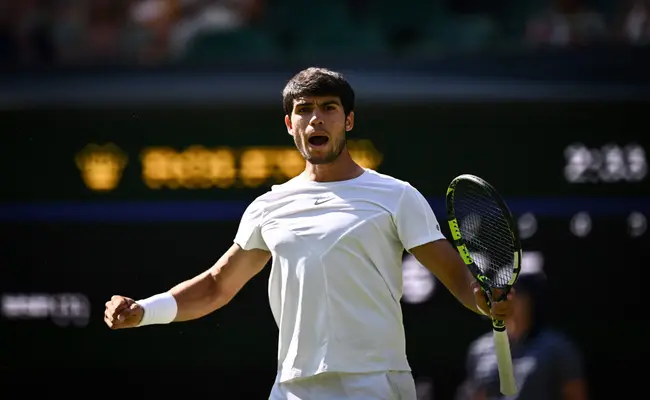 Carlos Alcaraz Passes Berrettini Test At Wimbledon
Carlos Alcaraz passed a tough test on Monday when he defeated 2021 finalist Matteo Berrettini 3-6, 6-3, 6-3, 6-3 to reach the Wimbledon quarter-finals for the first time.
Alcaraz withstood an early barrage of power from Berrettini, who has long excelled on grass. But once the Spaniard found his return rhythm on Centre Court, he never relinquished it en route to a three-hour, four-minute victory.
"I knew that it was going to be really tough," Alcaraz said in his on-court interview. "Matteo is a great player. He made the final here on grass, so I know he is playing great. Of course it is not easy after losing the first set. I knew I would have my chances. I needed to stay focussed and to stay there and [that is] something I am working on, to stay focussed, not lose my mind and I think I did great in that part and [I am] really happy to come back and play a great match."
The top seed seized control by the time the players reached 2-2 in the fourth set, when tournament officials decided to close the roof due to impending darkness. But the near 15 minutes between points — and the change in conditions — did not give Berrettini, who was unsure if he would play the tournament due to injury, enough time to flip the momentum.
Alcaraz will next play sixth seed Holger Rune in a battle of the next generation. The Danish star clawed past 2017 Nitto ATP Finals champion Grigor Dimitrov in four sets.
"The young guys reaching their dreams," Alcaraz said. "Coming here and playing a quarter-final together is something great for tennis. Of course with Holger, we said at lots of tournaments when we were 12 years old, we grew up together, passing all the categories, playing great tournaments, so playing a quarter-final at a Grand Slam against him is something great and that I am going to enjoy."
Entering the match, Berrettini had not lost serve during the fortnight. When he hammered his way to the opening set, it seemed the top seed could be in danger.
The start of the clash was reminiscent of Novak Djokovic's win against Hubert Hurkacz in that Hurkacz took the racquet out of Djokovic's hand.
But when Berrettini missed a forehand into the net off his back foot to trail 1-3 in the second set, the tenor of the match changed. Alcaraz grew in confidence and ultimately broke his opponent's serve four times from 16 attempts.
Read More: Rahane message for Jaiswal ahead of potential Test debut
The 20-year-old began the grass-court season having only played six tour-level matches on the surface. But the Queen's Club champion has now won all nine matches he has played on grass this year and is three victories from the Wimbledon title.
"I am hungry for more," Alcaraz said. "But this is something I really wanted. Last year I lost in the fourth round and I really wanted to play in the quarter-finals here. I came here this year with that goal. First it was to get into the quarter-finals and now I am looking for more. My dream is to play a final here and win this title one day. I hope to realise that dream this year, but right now it is great to be in the quarter-finals."
Berrettini, who is now 36-8 in tour-level matches on grass in his career, was never able to wrestle back control. Alcaraz hit 35 winners to just 23 unforced errors and held Berrettini to just 67 per cent of first-serve points won.