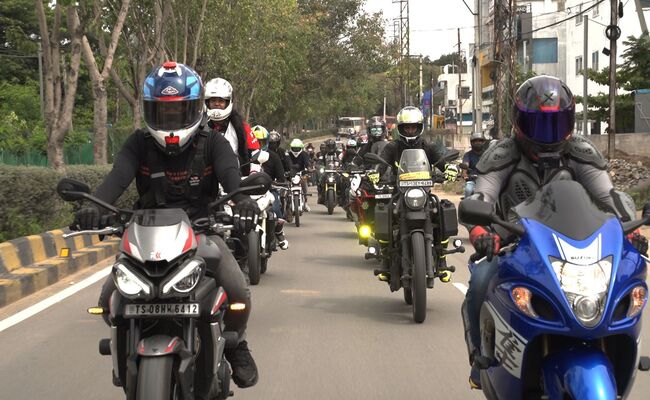 MotoGP™: 400 bikers kickstart Hyderabad Chapter
MotoGP™: The countdown to MotoGP™ Bharat was initiated in Hyderabad on Sunday with the multi "City Tour" initiative that was launched with great enthusiasm and response amidst 400 riders who participated in a controlled ride starting from Dhruva College of Fashion Technology, HiTech city, riding in a loop and back to increase the awareness around MotoGP among the community of race enthusiasts of the City.
This event, much like other MotoGP™ Bharat events propagated the philosophy of "Roads are for riding" and "Tracks are for racing" and encouraged young and aspirational riders to become aware of this global IP and forge a strong sense of camaraderie with the biking fraternity of Hyderabad city and across the state.
"Hyderabad has given confidence and wings to MotoGP™ Bharat's City Tour initiative. It turned out to be a resounding success, with participants embracing the thrill of riding through the city streets. This event marked the beginning of an exciting chapter, and we look forward to bringing the MotoGP™ Bharat experience to more cities across the country," commented Sushant Shrivastava, Managing Director and Head of City Tours, FairStreet Sport, the Indian promoters of MotoGP™.
Read More: Technical Committee recommends head coaches for Senior Women
The turnout of female riders' at the event was equally encouraging. This notable participation also reflected on the growing prominence of women as part of the biking community and how MotoGP™ has been successfully appealing with both the genders globally.
With the Hyderabad chapter coming to a successful conclusion, the race will now proceed to Ahmedabad on July 23, which is the next venue for the City Tour.
Besides the ride, the event showcased a slice of the MotoGP™️ atmosphere including mega DJ shows, bike stunts, food stalls, selfie booths, 360 VR and gaming booth at the event.
Host City, Uttar Pradesh will welcome the bike enthusiasts of Hyderabad and other cities as the caravan will proceed across the country before culminating in Delhi on the race weekend in September, from where participants will ride to the iconic Buddh International Circuit for the race that takes place from September 22-24,2023.
In addition, Head of Marketing, Rohit Sharma and AVP, brand alliances, Shaan Ahuja also played a pivotal roles in conducting the event