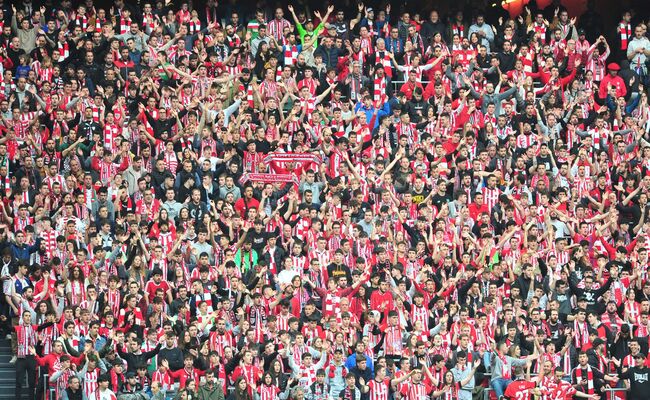 LALIGA EA SPORTS announces agreement between 15 of its clubs
LALIGA:  An agreement has been signed by 15 LALIGA EA SPORTS clubs in order to standardise the conditions for away seating. Initiated by LALIGA and governed by the principle of reciprocity, this agreement stipulates the sale of a minimum of 300 seats per match to members or supporters of the visiting club at a maximum price of 30 Euros each.
The idea, which has already been implemented in LALIGA HYPERMOTION by LALIGA and Aficiones Unidas, involved a working group of five clubs.: Athletic Club, Real Betis, Sevilla FC, Valencia CF and Real Valladolid CF laid the foundations for the agreement which has been made official today.
LALIGA has been working together with Aficiones Unidas for 13 seasons with the aim of putting the fan at the centre of all activities. Initiatives such as Sports Tourism, which looks to promote fan travel and generate a 360º experience that includes tourism, food and culture around a football match.
Read More:Hockey India names 24-member Indian Men's Hockey Team
Óscar Mayo, Executive Director at LALIGA, was enthusiastic about the initiative: "We are proud to start our rebranding with such an agreement. Supporting and promoting sports tourism is one of LALIGA's main motivations, and to be able to take this agreement to the highest level is a real luxury and a dream come true. Right now, there are 15 clubs involved, and hopefully 20 in the future".
Below is a selection of comments from clubs involved in the agreement:
Jon Uriarte, President of Athletic Club: "This move will bring Athletic a lot of benefits. I think that as one of the LALIGA teams that tends to have the most away support, any measure that helps our fanbase is very positive".
Joan Laporta, President of FC Barcelona: "For Barça, this is a very appealing way of meeting the many requests for away matches, both for fans who want to travel to watch the team as well as for the thousands of Barça fans who every season await the visit of their heroes in stadiums across LALIGA EA SPORTS. The agreement benefits local tourism, not just in economic terms but it will also strengthen ties of friendship between cities".
Enrique Cerezo, President of Atlético de Madrid: "It's very beneficial when Atlético de Madrid travels outside Madrid to play a match against any team involved in this agreement because it brings a large number of the team's fans, which in turn is very good for tourism and other important things a city needs in order to be able to cater for its visitors".
José Castro, President of Sevilla FC: "At Sevilla FC we are well aware of this. We have been welcoming fans from all over Europe for more than 20 years, and over that time, we know how extraordinary it is to have opposing fans come to our stadium. These fans have a positive impact on the city at every level, which is very important and something to consider".
Ramón Alarcón, CEO of Real Betis: "I think that more than the just the club contributes to LALIGA. Like in England, it is important that we encourage a culture of sports travel and travelling football fans. We also want to encourage a healthy atmosphere and become accustomed to it, because I believe that this is both good and beneficial for the spectacle. The fact that there are what the English call 'away fans' in every ground is very good for the competition. It's something that happens a lot when you are in Europe, in UEFA matches, where there is always the colourful section full of rival fans".
Rafael Contreras, Vice-president of Cádiz CF: "The club sees it as a measure to strengthen the fan presence that follows the team to every stadium in Spain. Cádiz CF never feels alone, it always has support, but now in a much more effective and improved way for our fans. Therefore, we are very happy with this step".
Alfonso Díaz, CEO of RCD Mallorca: "We have an added challenge given we are based on an island, and every trip comes with great difficulty and cost for our fans. Therefore, having a reasonable [ticket] price is going to help more people to travel, and have more fans filling the stadiums and improving the matchday experience. In the end, what we want is to have stadiums with more fans and to make it easier for them to travel".
Javier Solís, Corporate Director of Valencia CF: "Nowadays, we know that football as a global spectacle that goes beyond the match itself. Anything that encourages fans of other teams to come to the city of Valencia, and vice versa, is good for local commerce in terms of hotels, leisure and restaurants. We believe that this is a good measure for the clubs and the cities".
Alfonso Fernández de Trocóniz, President of Deportivo Alavés: "When you go to watch a football match, you don't just go to watch the match. You go to the city, you spend the day there and have fun… you become a part of the city. We believe it is a good agreement for all cities because it will help the influx of fans who will spend, in our case, the day in Vitoria".
Delfi Geli, President of Girona FC: "It's a win-win for all clubs. We'll be able to welcome rival fans, and our fans will have advantages when travelling to visiting stadiums. In the end, we owe it to our fans and should help them as much as possible when making their journeys".
Jokin Aperribay, President of Real Sociedad: "We welcome the agreement reached between 15 LALIGA EA SPORTS clubs and firmly believe in continuing to work for, and with, our fans. Since 2019, all Basque clubs have been doing so and we are delighted that this landmark agreement has been extended to encompass the competition".
Alfredo García, General Director of Granada CF: "This encourages relations between all the teams that make up LALIGA, plus making it easier for all fans such as those from Granada who travel to follow our team, and fans from other teams who visit our wonderful city. And above all encouraging sports tourism and supporting the project launched and promoted by LALIGA".
Patricio Viñayo, General Director of UD Las Palmas: "What this agreement brings to the signatory club is the feeling that the fans will have, in that they are not excluded from what happens outside their home stadium. Due to the exceptional nature of our origin and the merger of the five founding clubs, we are that common home and meeting point, we don't want this to be felt just in Gran Canaria, but wherever the team is".
Ángel Torres, President of Getafe CF: "We are opening a joint space in which clubs can work together to help our fans travel to matches. We can now offer them the means to support their team, to enjoy experiences in new places, and to show first-hand the passion that this sport generates. It's one more step in the growth of LALIGA."
Mohamed El Assy, General Director of UD Almería: "We are very positive and support this initiative from LALIGA as it's very advantageous for the fans in general, and for UD Almería fans in particular. Our club will always be open to collaborating with LALIGA and Aficiones Unidas to help the supporters, who are the most important people in football".
LALIGA continues to make things easier for fans, this time with the away seating agreement. An agreement that starts its journey with 15 clubs, who will be able to facilitate travel between visiting fans as long as a match is played against another club included in this agreement. This is something already enjoyed by fans in LALIGA HYPERMOTION.