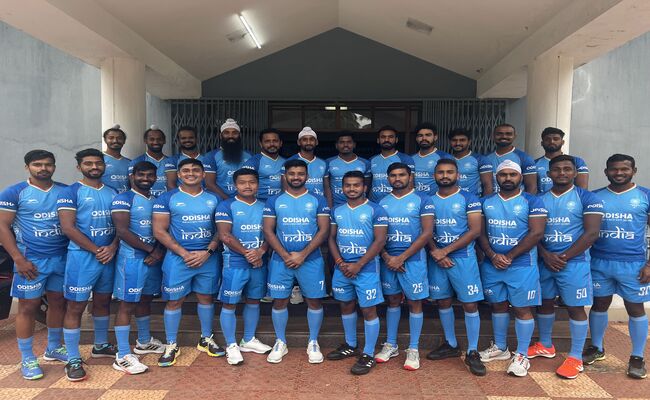 Hockey India names 24-member Indian Men's Hockey Team
Hockey India on Friday announced the 24-member Indian Men's Hockey Team that will participate in the 100th Anniversary Spanish Hockey Federation – International Tournament to be held in Terrasa, Spain from 25th to 30th July. India will play against England, Netherlands, and hosts Spain in the four-nation tournament which will serve as the preparatory event for the Indian team ahead of the much-awaited Hero Asian Champions Trophy Chennai 2023, which will be followed by the crucial Hangzhou Asian Games 2023. 
The team will continue to be led by ace dragflicker and defender Harmanpreet Singh and Vice Captained by the prolific midfielder Hardik Singh.
The goalkeeping department will be entrusted to the talented duo of Sreejesh Parattu Raveendran and Krishan Bahadur Pathak, while the defenders' list includes Harmanpreet Singh, Amit Rohidas, Jarmanpreet Singh, Manpreet Singh, Sanjay. Also, defenders Varun Kumar and Nilam Sanjeep Xess, who missed the FIH Pro League matches in Belgium, have been named in the team. 
Read More: Mark Wood's fiery spell restricts Australia to 263
Meanwhile, the midfield will be controlled by the energetic and dynamic players like Hardik Singh, Vivek Sagar Prasad, Shamsher Singh, Raj Kumar Pal. Moreover, Sumit and Nilakanta Sharma are back in the squad after missing the FIH Pro League matches in Belgium.
The forward line comprises the lethal attacking prowess of Lalit Kumar Upadhyay, Mandeep Singh, Gurjant Singh, Sukhjeet Singh, Abhishek, Pawan, Dilpreet Singh, Simranjeet Singh, and Karthi Selvam. These skilful and agile forwards possess the ability to score crucial goals, create scoring opportunities, and apply relentless pressure on the opponents' defense.
Speaking on the team selection, Chief Coach Craig Fulton said, "We have carefully chosen a balanced squad that brings together experience and youthful energy. Our aim is to create a cohesive unit that can compete at the highest level."
"The four-nation tournament in Spain will provide us with the perfect platform to fine-tune our strategies and test our skills against top-quality opposition. It will help us identify areas that need improvement, thus playing a vital role in our preparations for the Asian Champions Trophy and the Asian Games. We are confident that this exposure will enhance our performance and help us gear up for the challenges that lie ahead," he added.
Indian Team:
Goalkepers
1. Sreejesh Parattu Raveendran
2. Krishan Bahadur Pathak

Defenders
3. Jarmanpreet Singh
4. Nilam Sanjeep Xess
5. Manpreet Singh
6. Amit Rohidas
7. Harmanpreet Singh (C)
8. Varun Kumar
9. Sanjay

Midfielders
10. Hardik Singh (VC)
11. Vivek Sagar Prasad
12. Sumit
13. Nilakanta Sharma
14. Shamsher Singh
15. Rajkumar Pal
Forwards
16. Lalit Kumar Upadhyay
17. Mandeep Singh
18. Gurjant Singh
19. Sukhjeet Singh
20. Abhishek
21. Pawan
22. Dilpreet Singh
23. Simranjeet Singh
24. Karthi Selvam