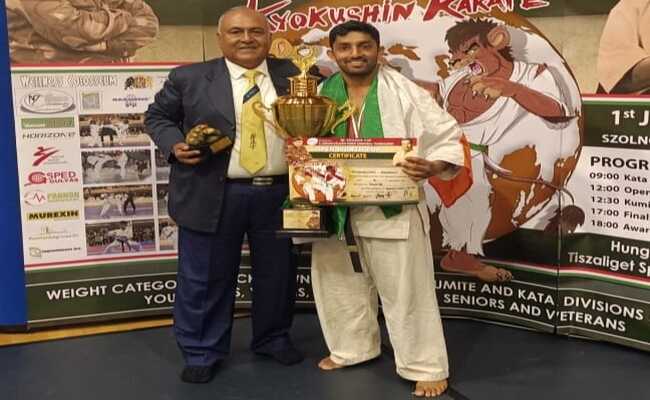 Fit India Ambassador Shyamantak Ganguly bags 3rd place
Fit India Ambassador Shyamantak Ganguly, who is also a well-known karate athlete from West Bengal, made India proud after bagging the 2nd runners up position at the Full Contact Karate Open World Cup 2023 in Szolnok, Hungary on July 1. Shyamantak, who competed in the -80kg division, was the sole participant from India in the competition.
Over 450 participants were a part of the event from across 25 countries, including Hungary, South Africa, Croatia, Spain, Croatia, Poland, Romania and others. In the -80kg category, Hungary stood 1st, Romania 2nd, while India was 3rd.
"It has been a dream to be in the podium of the World Cup. It has been India's dream, my dream and my father-coach Hanshi Shivaji Ganguly's dream. But I can't rest here. My target is to go ahead further top. I want to thank my sparring partners, my sponsors, my family members and everyone," said Shyamantak, who has been practicing kyokushin karate for over 2 decades and is also a former Junior Asian Full Contact karate champion.
Read More: India A squad for ACC Men's Emerging Teams Asia Cup 2023 out
With the aim of making fitness a priority for all citizens, the Fit India Mission decided to join hands with well-known names from all walks of life and encourage people to bring about a behavioural change in their lives. Therefore, it was decided to connect with well-known faces from different parts of the country, who will not only make fitness as a priority in their lives but also motivate others to do so. To honour their dedication and commitment towards our mission, they are recognised as Fit India Ambassadors.