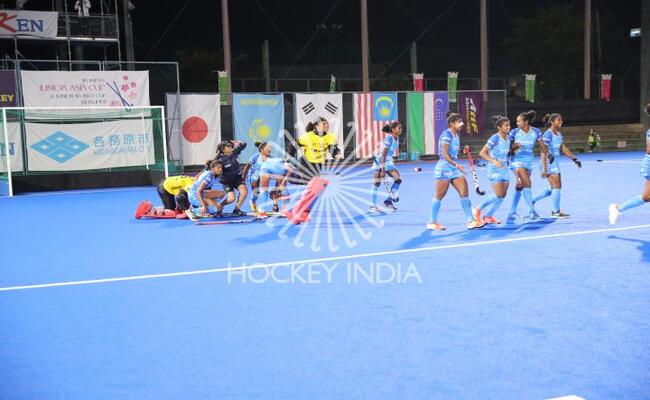 13th Hockey India Junior Women National Championship 2023
13th Hockey India Junior Women National Championship 2023: Hockey Haryana, Hockey Madhya Pradesh, Hockey Jharkhand and Chhattisgarh Hockey booked their place in the Semi-Finals after winning their respective Quarter-final matches on Tuesday.
Hockey Madhya Pradesh defeated Hockey Maharashtra 9-0 in the first Quarter-Final match. Speaking about their undefeated campaign in the tournament so far, Coach Neha Rawat said, "It has been a really successful journey so far. The Semi-Final match against Hockey Haryana is going to be a really tight one as they are a very good side. Nevertheless, the team is in good shape and we are really confident to put up a good show tomorrow and win the match. We are constantly working on our weaknesses and we are going to put our best foot forward in the Semi-Final."
The defending champions Hockey Haryana defeated Hockey Punjab 4-2 in the second Quarter-Final match. Hockey Haryana has been one of the most successful teams in the history of the tournament and are unbeaten so far.
"I am really proud of the team. We are looking to win the tournament third time in a row and for that, we have to win the match against Hockey Madhya Pradesh which is a very good side. We are not being overconfident and we will surely not take Hockey Madhya Pradesh lightly. They have shown an excellent display of skills throughout the tournament. It is going to be a very interesting match tomorrow. We are working on our shortcomings and will try to create and convert more penalty corners in order to clinch our spot in the finals," said Hockey Haryana's Coach Azad Malik.
Hockey Jharkhand advanced to the Semi-Finals of this prestigious tournament after defeating Hockey Mizoram 0-0 (3-2 SO) in the third Quarter-Final match. Hockey Jharkhand Coach Himanshu Kumawat said, "We have regularly played good hockey throughout the tournament but it's going to be a fierce competition in the semi-final match against Chhattisgarh Hockey. We are backing our side and we are confident enough to give our opponent a tough fight. The team is excited to represent themselves on the field on Thursday".
In the last Quarter-Final match, Chhattisgarh Hockey defeated the Hockey Association of Odisha 3-3 (4-2 SO) to secure their place in the Semi-Finals. On confirming their spot in the Semi-Finals Coach Amitabh Manikpuri stated, "We are thankful to the almighty for the journey so far. I have asked the players to play with a free mindset tomorrow against Hockey Jharkhand, treat the game as any regular game and not take any sort of undue pressure of the semi-finals. I am confident that the team is going to perform well on Thursday and will book a place in the Final."
Read More:Fit India Ambassador Shyamantak Ganguly bags 3rd place
Semi-Final Line-ups:
Semi-Final 1: Hockey Haryana vs Hockey Madhya Pradesh – 1830 HRS
Semi-Final 2: Jharkhand Hockey vs Chhattisgarh Hockey – 2030 HRS
Both the matches will be played on 05th July 2023, Thursday at the Birsa Munda Hockey Stadium in Rourkela, Odisha.
For all results and match updates, click on: https://hockeyindia.altiusrt.com/
Please note, all the matches will be telecast live on FanCode: https://bit.ly/JWChampionship