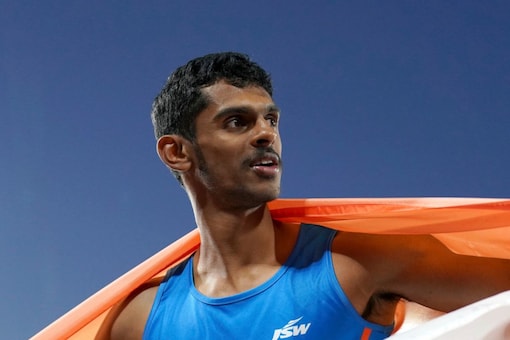 Watch: M.Sreeshankar exclusive interview with Sports Trumpet
M.Sreeshankar:Commonwealth Games silver medalist in an exclusive interview with Sports Trumpet, Sreeshankar revealed how he had struggle and missed out the gold medal by millimeter.
M.Sreeshankar comes up with a stupendous effort of 8.08 metres in his fifth attempt, which earned him silver medal. Notably, this is the first long jump silver won by an Indian male player in the history of Commonwealth Games.
The Unknown fact about M.Sreeshankar
Sreeshankar is coached by his father S. Murali wo is former triple jump athlete and silver medalist at South Asian Games. Sreeshankar would accompany his practices as a four-year-old,his father notices his potential as sprinter.
Sreeshankar became a state level under-10 champion in 50 meters and 100 meters, but switched from sprinting to long jump at the age of 13.
His mother used to train with legendary Indian sprinter Shiny Wilson. Wilson is family friend and a frequent visitor to their house
His mother K.S Bijimol had won silver medal in 800 meters at the 1992 Asian Junior Athletics Championships.
Sreeshankar sister Sreeparvathy is heptathlete.
M.Sreeshankar has a emerging star of Indian Athletics. Murali and Laquan Nairn had jumped 8.08 meters
in the respective finals attempts, but still Sreeshankar years of hard work pays of as he won country first commonwealth Games silver medal in long jump.
The 23-years old Murali in free wheeling chat revealed his bonding with Tejaswin Shankar, his future plans, and much more