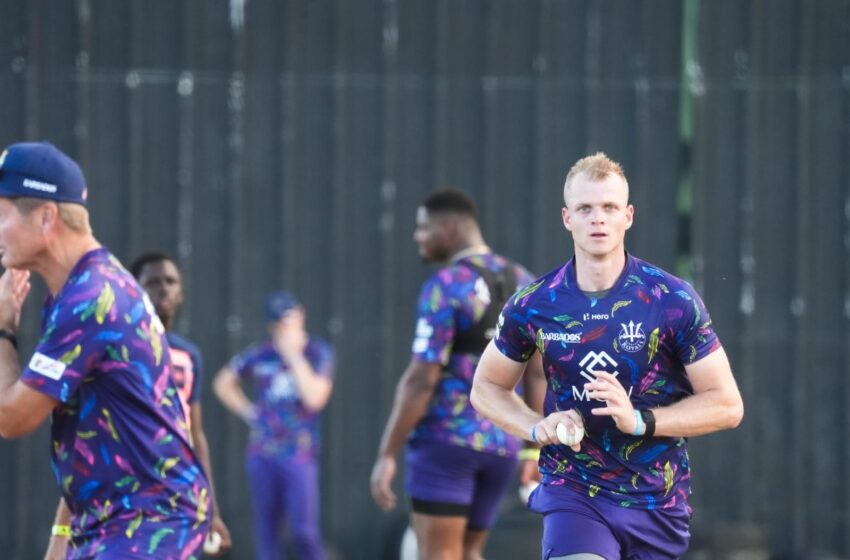 "Want to be the best all-rounder in world cricket," says Barbados Royals' Corbin Bosch
Corbin Bosch ,The 28-year-old has been in the form of his life, with consecutive fifties in the ongoing CPL season, and is aiming for a spot in the South African national team to follow in his father's footsteps
been more than eight years since a 19-year-old Corbin Bosch burst onto the scene with his fiery performances in the U19 Men's World Cup in Dubai. The right armer picked up four wickets in the Final to be named the player of the match, and help his country lift the elusive title.
Eight years and several domestic matches later, Corbin is in the form of his life, not just with the ball, but also with the bat. The 28-year-old who celebrated his birthday on Saturday, sat down to speak about the ongoing Caribbean Premier League campaign.
"It has been a great season for sure because the team has been on a winning run. I have been focused on contributing to the team as much as I can, and at the end of the day, if the team is winning, I'm a happy man," stated Corbin who has 151 runs in 5 games along with 2 fifties.
Asked what he's been focused on doing, Corbin said,
"I think my job depends on what the coach wants me to do. I don't mind going up the order or finishing games. The other major role for me is to bowl and take as many wickets and to be as economical as possible and just put the team in the best position that I can."
Having waited for his opportunity with the Royals franchises, the South African came to the fore during last month's inaugural season of the 6IXTY.
"The wait was definitely a long one. But it's one of those where I was waiting for an opportunity, whether it be in the IPL or in the CPL, and I was just grateful enough that I could be a part of such a fantastic setup in the IPL as well."
"Rajasthan Royals not only gave me a platform that I could possibly succeed moving forward, but also gave me an opportunity to be here at the CPL, which I happily took with both hands and hopefully I can be a part of this setup and the Royals franchise moving forward because it's such a fantastic atmosphere to be a part of, so I'm hoping there's many more games to come," he added.
Sharing his thoughts on the presence of experienced players in the Barbados Royals squad, Bosch said,
"I think they're all fantastic individuals who have a lot of experience of playing in various conditions around the world. I'm just trying to pick everyone's brains and make sure I'm improving as well."
With all-round performances in the CPL, the South African is getting noticed now, but believes his best is ahead of him.
"My goal is to keep playing my best cricket. Our international team is really starting to look like a formidable cricket side, and it's something that I aspire to be a part of. I know I've got a lot of hard work ahead of me and it's not an easy task, but it's still one of the dreams that I have."
"Ideally, I want to be the best bowler in the world. That's my goal, and to be the best all-rounder in the world. I still feel like I have a lot of my best cricket ahead of me and I've got a lot of hard work to do as well, and those are just my goals – to be the best in the world."
"I know it will come from performances in various competitions around the world, and I'm grateful to the Royals that they've shown so much faith in me. My game has grown massively over the past 12 months, and I feel it's only the start of my journey," he added further.
Corbin's father, the late Tertius Bosch, also represented South Africa, and the 28-year-old wants to emulate him
Apart from his dad, Corbin has also idolized two former Australian legends.
"Ricky Ponting was always a big idol for me. If you notice, I've got the same number on my jersey. I think the way he went about his business, and how he led that Australian side was incredible."
"When it comes to bowling, I think there's not many better than Brett Lee. He has inspired me to bowl fast, and that mixture of aggression and composure is something that I look to replicate as well. His attitude on the field, and him being an all-rounder as well, he's one of my idols for sure," expressed Bosch.
Asked what made him choose Paarl Royals and stick with the Royals for SA20, Corbin said 'it was honestly a no brainer'.
"I said to my agent, Royals would come first. I feel like they gave me the opportunity to come to the IPL where they wanted to see what I was about, and they allowed me the opportunity to be a part of the IPL and the CPL as well. It's such a fantastic franchise and they are building such an incredible brand that it's hard to say no to."
Bosch would have ideally wanted to be in the South African team for the upcoming T20 World Cup, but wishing them the best, he said,
"I think we have a fantastic squad. I think there's quality all around the team, where we've covered all facets of the game. I believe in our boys 110%, and we know it's going to take a lot of hard graft, but we have the players and the experience to bring the trophy home," he signed off.
The Barbados Royals Men's Team will continue their CPL campaign when they face Trinbago Knight Riders in their sixth match on 13th September at the Queen's Park Oval in Port of Spain, Trinidad & Tobago, at 19.00hrs local time / 04.30am IST (+1).