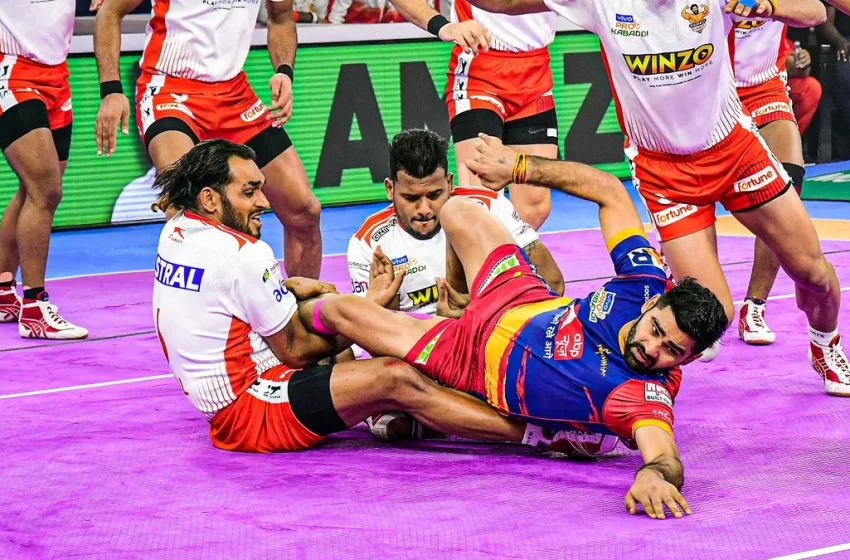 Image: ProKabaddi/Twitter
U.P. Yoddha Secure Tie Against Gujarat
An inspired performance from Pardeep Narwal in the second half helped the U.P. Yoddha secure a 32-32 tie with the Gujarat Giants on Wednesday. Raider Rakesh Narwal was the game's top scorer with 13 points.
U.P. Yoddha took a 3-1 lead early in the game, but a Super Raid from Rakesh Narwal kickstarted a six-point run from the Giants that left their opponents with just a solitary man on the mat. The lone player Surender Gill did not let the situation bog him down, as he managed a two-point raid that revived a defender, and then Super Tackled the Giants' raider to bring parity to the scoreline.
But Gill's inspired work proved to be only a momentary respite. The Giants' defence reduced U.P. Yoddha down to two again, and Rakesh Narwal tagged them both on the subsequent raid before diving past the midline to inflict the game's first All Out and help the Giants take a five-point lead.
Gujarat continued to impose their will on the contest and embarked on a 7-2 run post the All Out, leaving U.P. with just two men on the mat and trailing by 11. But U.P. Yoddha finished the half stronger, scoring five unanswered points to go into the break trailing 14-20.
U.P.'s defence and Pardeep Narwal came alive early in the second half, as they reduced the Giants down to just a solitary man three and a half minutes into the final 20. The defence allowed the raider to pick a bonus point but made no mistake in pinning him down to inflict an All Out and cut the deficit to just two points.
Pardeep's strong surge in the second half continued, as U.P. Yoddha and the Giants soon found themselves level on the scoreboard. The game was evenly poised at 31-31 when Rakesh Narwal's 13th raid point of the night gave the Giants the lead. But Pardeep's assured Running Hand Touch saved the day for U.P. Yoddha, as the teams shared the spoils.
Top Performers
Gujarat Giants
Best Raider – Rakesh Narwal (13 Raid Points)
Best Defender – Girish Ernak (4 Tackle Points)
U.P. Yoddha
Best Raider – Pardeep Narwal (11 Raid Points)
Best Defender – Sumit (3 Tackle Points)