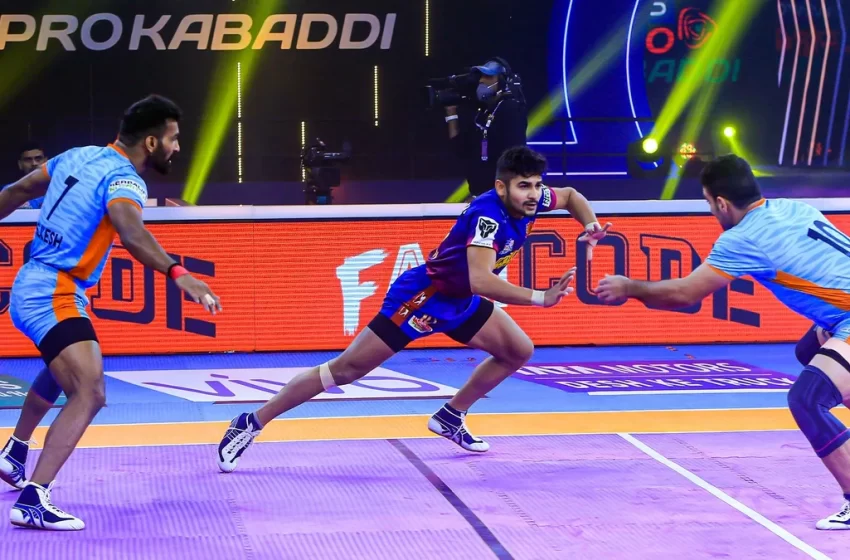 Image: ProKabaddi/Twitter
Dabang Delhi Beat Bengal Warriors By 17
Maninder Singh's 16-point performance paled compared to Naveen Kumar's night, as the reigning MVP scored a career-high 24 points to help Dabang Delhi record an emphatic 52-35 win over the Bengal Warriors. All-rounder Vijay was also terrific, scoring a Super 10 for Delhi.
At the start of the first half, the Naveen Express was unstoppable, picking up at least a point in each of his first five raid attempts and giving his side an early lead. Delhi's defence also did their part, and the Warriors were soon reduced to just a solitary man. They made no mistake in pinning him down to inflict the game's first All Out and take a 10-4 lead just over five minutes into the game.
Raider Vijay joined in on the act, picking up points for his side, as Delhi embarked on a 7-2 run to extend their lead to 11 points. Naveen's 10th raid point of the night, followed by an assertive Dash from Jeeva Kumar, saw Delhi inflict another All Out and take a 14-point lead.
Naveen was relentless in his pursuit of points, picking them almost at will, which helped Delhi reduce the Warriors to just three men on the mat again and extend their lead to 20. The Warriors' defence finally managed to stop Naveen, Super Tackling him with barely seconds left in the first half to go into the break trailing by 15-33.
The Warriors started the second half brightly, courtesy of skipper Maninder and some decent work from their defence. They managed to reduce Delhi down to three men, and Maninder picked them all off in the same raid to help the Warriors inflict an All Out and cut the deficit to 12.
Maninder threatened to bring his side back into the game, but Vinay's Super Raid helped Delhi put some daylight between themselves and the Warriors on the scoreboard. Maninder soon completed his Super 10, as he tried to bring his team back into the game, but Vijay responded by picking his 10th raid point of the night to keep a Warriors comeback at bay.
After watching patiently from his team's half for a while, Naveen returned for more and delivered three more successful raids to leave the Warriors reeling with just three players on the mat. The defence and Naveen took care of those final three to inflict another All Out and take an 18-point lead with under four minutes left in the game.
The Warriors outscored Delhi by a point in those final three and a half minutes, but last year's beaten finalists left the mat with smiles on their faces after an emphatic win.
Top Performers
Dabang Delhi K.C.
Best Raider – Naveen Kumar (24 Raid Points)
Best Defender – Jeeva Kumar (3 Tackle Points)
Bengal Warriors
Best Raider – Maninder Singh (16 Raid Points)
Best Defender – Abozar Mighani (4 Tackle Points)