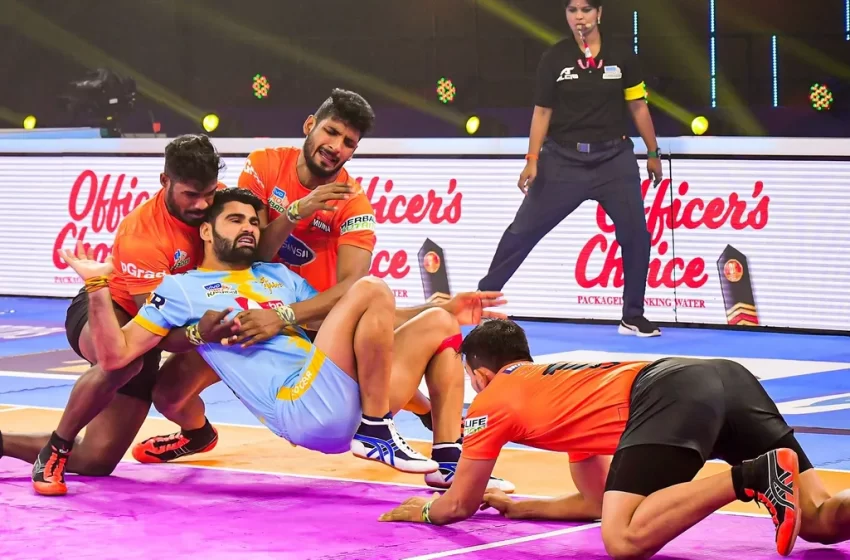 Image: ProKabaddi/Twitter
U Mumba's Defensive Display Against U.P. Yoddha
A spectacular effort from U Mumba's defensive unit helped them earn a 28-28 tie against U.P. Yoddha on Saturday. U Mumba's V Ajith Kumar finished the game with nine points, while Surender Gill managed eight for U.P. Yoddha.
The first five minutes were evenly contested, with both teams matching the other point-for-point, ensuring parity on the scoreboard. Three unanswered points from U.P. Yoddha left U Mumba with just three players on the mat, but their defence stood tall and Super Tackled Rohit Tomar to cut the deficit to 1.
U Mumba's defence continued to answer their team's call, helping their side draw level on the scoreboard. U.P. Yoddha managed to reduce U Mumba to a solitary man, but a two-point raid from V Ajith Kumar followed by another Super Tackle from their defence gave U Mumba a four-point lead. U.P. Yoddha's defence scored the final point of the half, as the teams went into the break with U Mumba leading 16-13.
U Mumba's defence was proving to be impenetrable, as their fourth Super Tackle ensured their team stayed ahead by three on the scoreboard. But Sumit's fifth tackle point of the night and a raid point from Ankit helped U.P. Yoddha break U Mumba's resistance and reduce them to a solitary man on the mat. U.P. made no mistake in pinning the raider down and inflicting the All Out to bring parity to the scoreline.
Neither team could build a substantial lead post the All Out, as they matched each other point-for-point to ensure the game remained level with under four minutes left. U.P. Yoddha's defence helped their side take the lead, but U Mumba answered with two straight points to snatch it back.
With less than a minute left, Ankit came in knowing nothing less than a point would suffice his side, and he managed to draw the error out of Fazel Atrachali to level the score. Neither team took a risk in the final two raids of the contest, ensuring the game finished in a tie.
Top Performers
U Mumba
Best Raider – V Ajith Kumar (9 Raid Points)
Best Defender – Rinku (4 Tackle Points)
U.P. Yoddha
Best Raider – Surender Gill (7 Raid Points)
Best Defender – Sumit (6 Tackle Points)