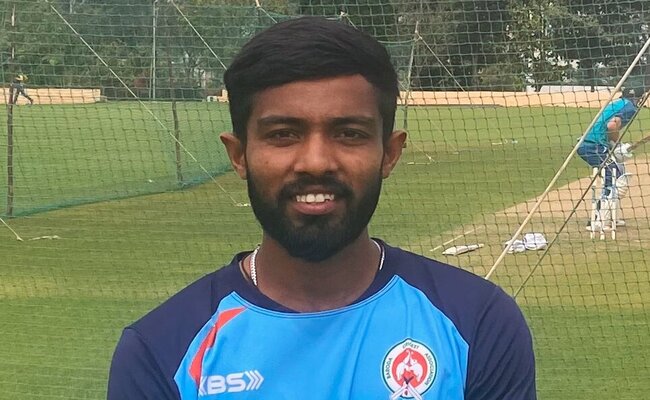 The R Ashwin duplicate helping Australia prepare for Border-Gavaskar Trophy
Australia have pulled out to prepare for their trip to India, the most noticeable at their Test tour's first training session was the presence of a Ravichandran Ashwin duplicate.
Maheesh Pithiya grew up in a house with no television set in Junagadh, not far from the India-Pakistan border, meaning he had not seen Ashwin bowl until he was around 11 years old.
At first, it was a complete coincidence the bowling action he used to generate his crafty off-breaks held such a strong resemblance to Ashwin's. When Pithiya finally saw him playing against West Indies in 2013, he had a new idol. These days his phone is filled with photos of Ashwin and he hopes to
And even as Pithiya's career progressed to see him make his first-class debut in December for Baroda, his style has remained uncannily similar to Ashwin's, who will be one of the biggest bowling threats to the Aussies during the four-Test series beginning in Nagpur next week
This is precisely the reason Australia's support staff, after being sent footage of the spinner via social media, have flown the 21-year-old into their base in Bangalore for a four-day training camp at the KSCA Ground in nearby Alur.
It is around an hour's drive for the Australians, who departed the heaving southern Indian city on Thursday morning amid roadside vendors selling roses and coconuts to find a well-appointed cricket facility in a more tranquil section of town.
It is here the Australians are fine-tuning a strategy they hope can help them knock over India on their home decks for the first time in a generation.
Some eyebrows were raised when details were revealed of Australia's detour to Bangalore (which is not hosting any of the Test matches) instead of heading straight to Nagpur. Former captain Michael Clarke was among those to question the logic of not playing a tour game.
But Australia are adamant that facing the likes of Pithiya on surfaces tailored to what they expect to encounter in the Test series will prove far more beneficial than a practice match.
Steve Smith labelled a tour game played in the lead-in to their 2017 Test series in India as "irrelevant".
Three pitches in the middle of the main ground in Alur have been prepared by the local Karnataka cricket association, with each taking more turn as their first training day wore on. Assistant coach Daniel Vettori's left-arm spinning throwdowns were particularly volatile by mid-afternoon.
With the wickets to receive extensive foot traffic over the course of the mini-camp, it is hoped the surfaces will be turning square by the weekend, replicating what players are expecting in Nagpur, a ground with a reputation for big spin.