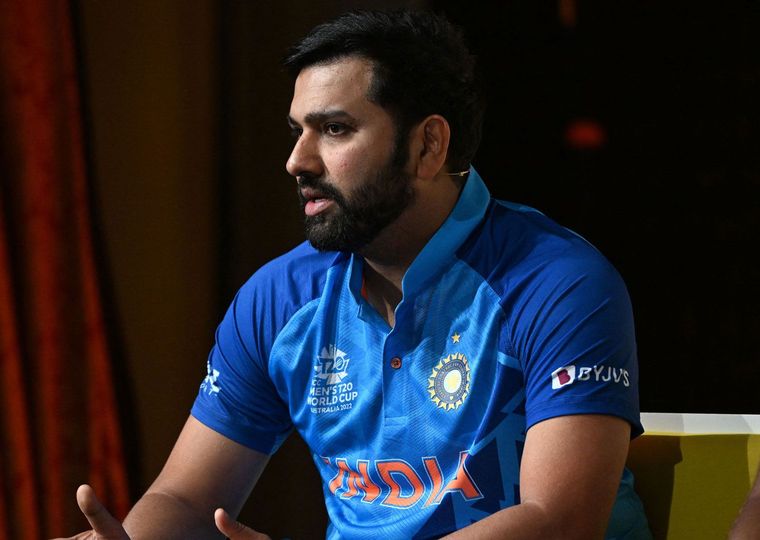 T20 World Cup :Teams take more risks now,without worrying about the result ,Rohit Sharma
T20 World Cup that took part in the inaugural event 15 years ago and the India captain has reflected on how much the shortest format of the game has changed over the years and just what he is doing to help his side to success in Australia.
T20 World Cup : Rohit entered the 2007 event in South Africa as a baby-faced 20-year-old, but still managed to have a strong impact as he hit a fine half-century against the tournament hosts in his side's last group match and then backed up that effort with an unbeaten 30 coming into bat at number six in the final against arch-rival Pakistan in Johannesburg.
Much has changed for the veteran right-hander since his inauguration into T20I cricket all those years ago, but the pressure on India to perform on the big stage remains and Rohit is keen to help the Asian side pick up a second T20 World Cup crown this time around in his role as skipper.
Rohit is now a veteran of the game with more than 140 T20I appearances for his country, but that's a far cry from what the 35-year-old knew about the shortest format of the game all those years ago.
The India captain said he entered his first ICC tournament with very little knowledge about how big the shortest format of the game would become and watched on in awe as MS Dhoni led India to the title.
"When I was picked for that World Cup I did not go with any expectations about myself," Rohit said in Melbourne on Saturday alongside the other 15 captains who are in Australia for this year's T20 World Cup.
"I just wanted to enjoy the tournament and play the tournament as it was my first ever World Cup.
"I had no understanding of what it was like to be part of a World Cup and how big it was going to be until we actually won the World Cup."
The four-week event in Australia is the eighth rendition of the T20 World Cup and will also be the eighth time Rohit will feature in the 20-over showcase having played in each tournament thus far.
Also Check Sportstrumpet.com
He is also one of just four players in Australia that played at the inaugural event in 2007, with Zimbabwe all-rounder Sean Williams, Bangladesh captain Shakib Al Hasan and India team-mate Dinesh Karthik making up an impressive quartet that can now definitely be considered T20 World Cup veterans.
"It has been a long journey and the game has evolved so much," Rohit reflected.
"You can literally see how it is played now compared to what it was like in 2007.
"140 or 150 was a good score back then and now people try and get that score in 14 or 15 overs."
With the days of those low scores a thing of the past and 20-over cricket continuing to evolve, Rohit has to find the delicate balance between attack and defence and try and temper the expectations the one billion or so people back in India put on his side to perform.
It's a job that Rohit is relishing and the aggressive right-hander is hoping he can join Dhoni as India captains to have led their side to glory at a T20 World Cup.
"Teams take more risks (now) without worrying about the result and I think that is a good way to play this format," Rohit noted.
"It is something that our team is also trying to do
"This is the kind of format where there is risk, but there are high rewards as well.
"We have got to be brave enough to take those risks and certainly be prepared to do that as well."
Rohit and India will be in action in their final warm-up game against Australia at The Gabba in Brisbane on Monday, before they fly to Melbourne to take on Pakistan in their T20 World Cup opener at the MCG on October 23.