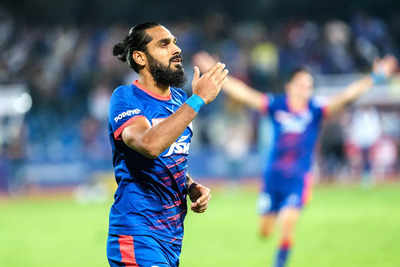 Sky's the limit and it's still a long way to go, says Sandesh Jhingan after 50 caps
easy games. I'm very excited and I have so much, so much belief in this batch.
We just don't want to have any regrets when we return from there, regardless of whether we go to the final, lift the trophy or we get knocked out in the group stage with zero points. Whatever it is, we should leave an impact or a memory in our minds that we gave our best and we have no regrets when the tournament ends. It's always about perspective and how you look at it, and I prefer looking at the brighter side regardless of the situation. It gives you hope. I'm pretty optimistic. And God bless, I think we'll make our country proud.
Q. Lastly, any message for the Blue Tigers fans?
Jhingan: It always starts with a thank you. Personally, being part of the national team, I'm still a fan of the national team. That's how I fell in love with the sport. That's how I wanted to be a professional footballer. I always wanted to play for the country. So, I will always be a fan of the national team. I love Indian football. All the growth we have made from the day I made my debut at #173 to #96, has been as a whole as a country. So, wherever we are right now and we really will go, will be as a whole India, as 1.4 billion people.
Thanks for all the support, all the love and the right criticism when it's needed. Every healthy relationship needs praise and criticism. And whatever we do on the pitch, it's for the glory of this great nation. Regardless of the results, because they can always go up and down, one thing I can always assure is that the commitment will never go even a percent down. Even if you have to bleed on the pitch or no matter what it takes. We know how much people love the sport here and how much they support us. We all are in this together and we should celebrate every victory, learn from every defeat and always stick together no matter what because we are in this as a family. 20, 30, 40 years down the line, when India is hopefully a superpower in football, you will tell your younger generations we were part of that journey. We were supporting them when it all started. They were playing and we made it all the way together by sticking together. So, it will be a lovely memory and some good banter to post about for the younger ones who are not even born yet.