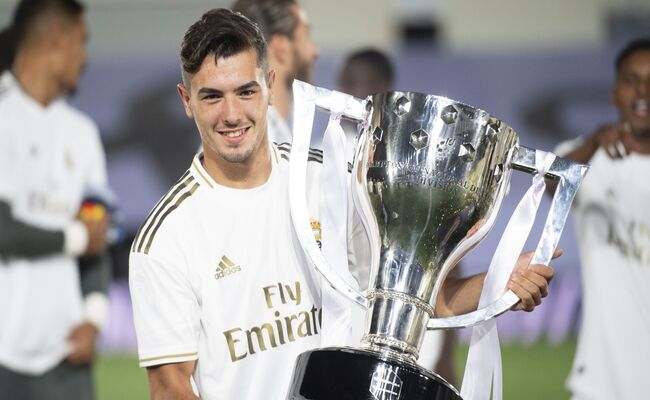 Brahim Diaz is back in the Spanish capital and set for a second chance
Brahim Diaz is back in the Spanish capital and set for a second chance to establish himself as a regular for Real Madrid. The 23-year-old attacking midfielder, who first joined the 34-time LaLiga champions from Manchester City in 2019, has spent the last three seasons on loan in Italian football with AC Milan in search of minutes and invaluable experience.
He has gained plaudits for his performances in Italy, playing 124 matches in all competitions and scoring 18 goals for the Rossoneri. He won the Serie A title last season, becoming only the third player ever to win LaLiga, Serie A and the Premier League after Cristiano Ronaldo y Danilo, and this year he reached the Champions League semi-finals.
He now returns to the Santiago Bernabeu and will likely slot into the now departed Marco Asensio's role in the team. Brahim is a very creative player, and can complement the attacking firepower of Brazilian duo Vini Jr and Rodrygo well. His idol as a child was Real Madrid legend Sergio Ramos. Brahim had his room full of photographs and posters of the former Real Madrid captain, but he has nothing to do with the Real Madrid legend in footballing terms. He is a versatile attacking midfielder. He can play on the right wing – the position in which he feels most comfortable –, on the left flank, as a playmaker, and even as a striker if necessary.
Born in August 1999 in Malaga, he joined the youth ranks of Málaga CF when he was 7 years old. A strong passion for football runs in his family. His father, Sufiel, played in one of the most promising youth teams in Malaga but did not have the same luck or talent as his son would years later. Despite this, he instilled in him a passionate love for football and tried to teach him and help him to become a professional player.
From a very young age, Brahim began to attract the attention of big clubs such as FC Barcelona and Real Madrid, but in 2013 he finally signed for Manchester City to play in the youth teams. In 2016 he made his professional debut in the Carabao Cup aged just 17.
It was in England that he began to forge his footballing identity and image. His full name is Brahim Abdelkader Díaz, but there he became known only as Brahim Diaz for one simple reason: to help simplify his name and make himself known in the Premier League.
Despite the distance, Brahim remained on Real Madrid's radar, and they took the plunge to sign him in 2019 despite his limited playing time on a six-year deal running until 2025. He scored his first goal for Los Blancos in May 2019 in a 3-1 loss to Real Sociedad a the Reale Arena. He now returns to LaLiga with the dream of establishing himself at the Santiago Bernabéu, with experience and age on his side.