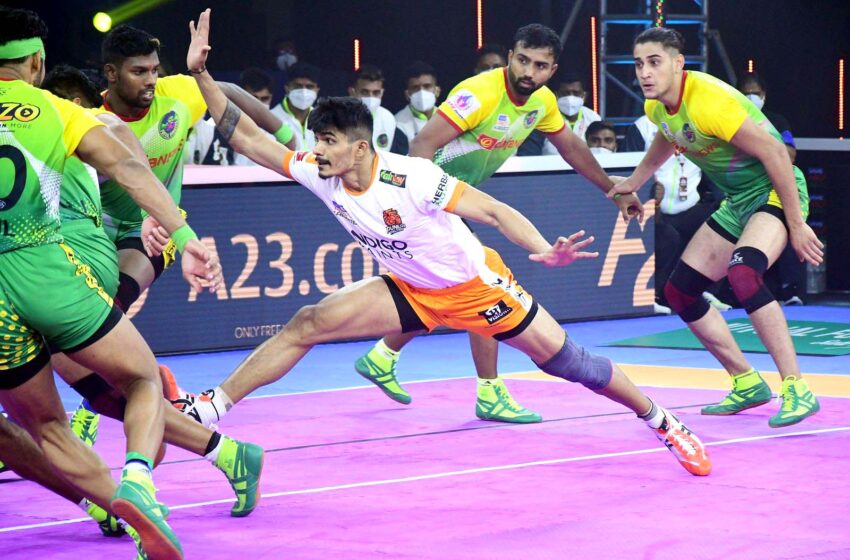 Image: ProKabaddi/Twitter
Sachin Lead Patna Pirates To 12-Point Win
Raider Sachin and Patna Pirates' assured defence led them to a 38-26 win over the Puneri Paltan on Tuesday. The Pirates defence scored nine tackle points while giving up just six raid points in the second half, which proved to be the difference in the contest.
The match got off to a fast start, with both teams matching each other point-for-point. Just one point separated the teams on the scoreboard before a two-point raid from Aslam Inamdar, and a terrific tackle from the Paltan's defence gave their side an 8-6 lead.
The Paltan seized the initiative and took a five-point lead but were quickly pegged by four unanswered by the Pirates that cut their lead to just one. Soon after, a déjà vu moment crippled the Paltan's momentum. Monu Goyat accidentally stepped into the lobby before tagging a defender, but unaware of the situation, three Paltan defenders followed him into the lobby attempting to pin him down, rendering all four players out.
The Paltan, who were down to two players on the mat after Monu's raid, scored the final point of the half to go into the lead with the scores level at 14-14.
The Pirates took just 50 seconds to take care of the two Paltan players on the mat to inflict the game's first All Out and take a four-point lead. Sachin and defence extended their lead to seven, but a Super Tackle from the Paltan's defence and some efficient raiding saw the Paltan cut the deficit down to three.
With the Paltan cutting into their lead, Sachin and the Pirates defence stepped up. They added four unanswered points to their team's score to not only reclaim their seven-point advantage but also leave the Paltan with just a solitary man on the mat. Mohammadreza Chiyaneh's strong Ankle Hold took care of the Paltan's final player to inflict an All Out and give his side a 10-point lead.
The Pirates' defence and Prashanth Kumar added four more points to their team's total, pushing the lead up to 14. The Paltan outscored the Pirates by a couple of points in the final two and a half minutes, but it was too little, too late, as Patna registered their second win of the season.
Top Performers
Patna Pirates
Best Raider – Sachin (10 Raid Points)
Best Defender – Sunil (4 Tackle Points)
Puneri Paltan
Best Raider – Aslam Inamdar (4 Raid Points)
Best Defender – Sombir (4 Tackle Points)