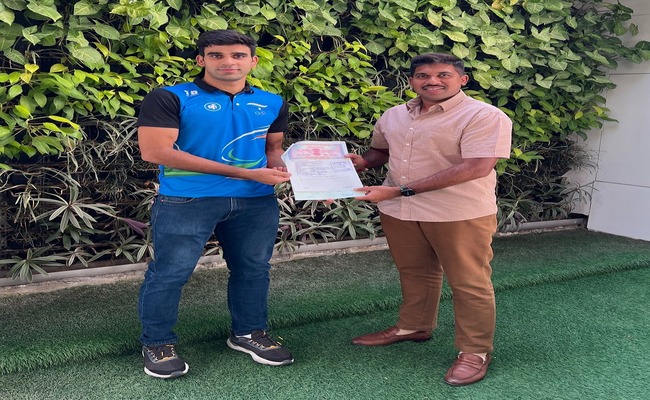 Punit Balan Group to fuel Valley's only international cyclist Bilal Ahmad Dar's Olympic dream
Punit Balan Group to fuel Valley's only international cyclist Bilal Ahmad Dar's Olympic dream
Pune, May 18, 2023: Punit Balan Group (PBG) is supporting aspirations of youths from Jammu & Kashmir since 2018 so they can compete in international competitions across various sporting disciplines. Recently, the group has signed valley's only international cyclist, Bilal Ahmad Dar, who is a recognised athlete and part of the support. PBG will be helping Dar in his mission and help him fuel his dream to represent India at the Olympics.
Punit Balan is an entrepreneur, filmmaker, social worker, sports lover and has been working with the Indian Army since 2018 to promote free education and rebuild lives of children jeopardised by drugs and militancy in the valley. Balan Group is dedicated to supporting youngsters in achieving their dreams as they remain committed to fostering a culture of excellence and growth.
Speaking about this exciting onboarding, "Jammu & Kashmir has enormous potential and talents and I am committed to promote and support these athletes so that they can fulfil the dreams to represent India and compete professionally and win medals for the country. Through Punit Balan Group and Indrani Balan Foundation we aim to take numerous initiatives to bring the youth of this region into mainstream sports", said Chairman and Managing Director, Punit Balan Group.
Bilal Ahmad Dar hails from Kawoosa village in Budgam district and was spotted during a talent hunt in Srinagar. He went on to represent the country globally. He demonstrated tremendous skill, dedication and tenacity and won a silver and bronze medal at the Asian Junior Championship, (2019), as well as two silver medals at the Asia Cup in 2018.
"I am extremely happy with the faith showed by Punit Sir and his team in me. My aim is to represent India at the Olympics, a feat that is still untouched and I am working hard to make this dream come true. I am confident with all the support I will leave no stones unturned in my efforts," said the acclaimed Cyclist.
The group has so far supported close to 5000 youths including athletes, Afreen Hayder (Taekwondo), Muhammad Saleem (Cycling) Umar Shah (Cricket) and Umeer Syed (Kho Kho).