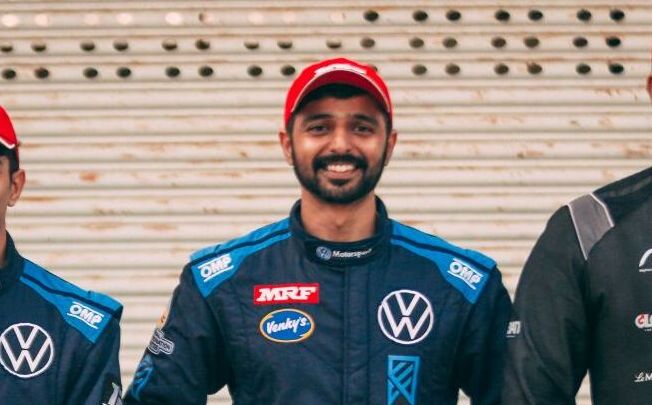 Pratik Sonawane crowned Polo Cup National Champion
Pratik Sonawane was crowned the 2022 Polo Cup National Champion, at the Madras International Circuit, in Chennai with 3 podiums in the final round. Rookie Raaj Bakhru making a sensational car racing debut in his maiden season of Car Racing, was second and also crowned the Junior Champion. Bangladesh's Avik Anwar was third. 
Read More sportstrumpet.com
The final Round of the MRF MMSC FMSCI National Championship kicked off in Chennai with Ritesh Rai stunning the field to post a time of 1:56.00. The local lad had done enough to earn pole position for Races 1 & 3. He was followed by Mumbai racers, Pratik Sonawane & Raaj Bakhru.
Rai made a sluggish start of the line and Sonawane immediately pulled alongside, but found the door shut firmly by Rai into the first corner. Bakhru then made a lunge into the 2nd corner but also did not succeed. Rai maintained his lead to win the race ahead of Sonawane and Bakhru who hounded the former, throughout the race.
The top 8 finishers from Race 1 were reversed for the start of Race 2. Former International winner in the Polo Cup – Prashant Tharani Singh, was making a comeback to racing after many years and started on pole. The lights went out and Pune's Shreyas Dhimate made a better start, but made contact as Tharani Sing defended. Midway through the race, Championship contenders Sonawane and Bengaluru's Aditya Swaminathan collided taking them out of contention in the race.
Dhaka resident, Avik Anwar was the star of the race he started well from fourth and went on to win the race ahead of Tharani Singh and Mumbai's Munjal Savla who drove well to complete the podium.
Race 3 was comfortably won by Rai ahead of Sonawane and Bakhru.
The last race or the championship had another Rookie Ojas Surve start on pole. In his first weekend in Car Racing, Surve from Mumbai kept his cool and opened up a commanding lead as the championship contenders battled it out behind him. Bakhru's unsuccessful lunge on Anwar cost him 3rd place. Surve won ahead of Anwar & Sonawane.
Sonawane's strong finish ensured that he sealed his maiden National Championship with 122 points and 5 podiums in total out of the 8 races. Bakhru with 4 podiums sealed second in the Championship with 108 points just 1 point ahead of Anwar with 107 points. Bakhru was also crowned the Junior Champion while this was Anwar's first top 3 finish in the overall National Championship, and also the first for a Bangladeshi racer.
The 2022 Polo Cup Championship had 18 racers participate in total, with 10 separate drivers climbing the podium. The 2023 National Championship will begin in July with a selection program to be announced in the coming weeks.