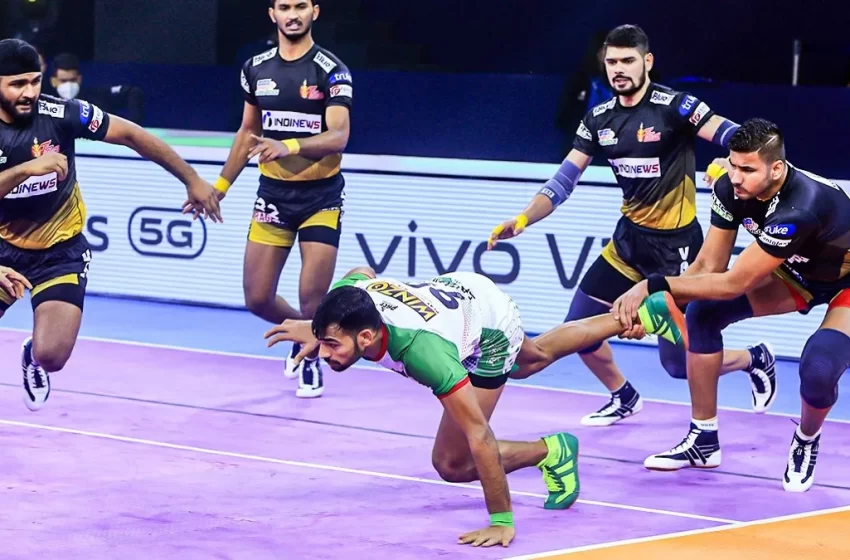 Image By PKL
Patna Pirates Win Over Telugu Titans
A match-winning raid right at the end from Sachin helped the Patna Pirates beat the Telugu Titans 31-30 and register their third straight win. The Pirates now sit just two points behind league-leaders Bengaluru Bulls on the points table having played a game fewer. Titans' raider Ankit Beniwal was the top scorer with 10 points.
The Titans started the game brighter and led 4-2, but a Super Raid from Pirates skipper Prashanth Kumar Rai swung the momentum in Patna's favour. The Pirates made their advantage count and soon inflicted the game's first All Out to a 12-7 lead.
Rai, Mohammadreza Chiyaneh and Sachin added a point each to their team's total as the Pirates soon saw themselves leading by eight. With their team struggling, the Titans' defence stepped up and picked up three tackle points in the final few minutes of the half to help their side go into the halftime break trailing by five.
Titans' Right Corner Ruturaj Koravi pinned down Gurman Singh to leave the Pirates with three players on the mat. The Pirates' defence Super Tackled Beniwal, but the Titans' defence revived their star raider, and he delivered, picking off all three Patna players in two raids to help his side inflict an All Out and cut the deficit to one.
Monu and the Pirates' defence pushed their team's lead up to three, but Beniwal wiped that advantage off the scoreboard with a Super Raid, as the two teams were now tied at 24-24. Monu scored two quick points to put his team up by a couple of points, but Beniwal's touchpoint right after left the Pirates with just three men on the mat.
The Pirates put in a couple of empty raids to force a Do-or-die situation, and it played out perfectly, as Patna's defence Super Tackled Beniwal to push their team's lead to three. Sachin added another point to his tally to help the Pirates take a four-point lead with just over two minutes left.
The Pirates seemed in control of proceedings, but Beniwal disrupted that in a hurry, picking up two quick touch points to reduce the Pirates to three players and their lead to two points. Koravi's strong block on Monu, followed by Beniwal's 10th raid point of the night, brought parity on the scoreboard with enough time left for one more raid.
Sachin, the lone Pirates player on the mat, went in and managed to escape a tackle attempt to score the game-winning point for Patna.
Top Performers
Patna Pirates
Best Raider – Sachin (6 Raid Points)
Best Defender – Neeraj Kumar (4 Tackle Points)
Telugu Titans
Best Raider – Ankit Beniwal (10 Raid Points)
Best Defender – Ruturaj Koravi (4 Tackle Points)