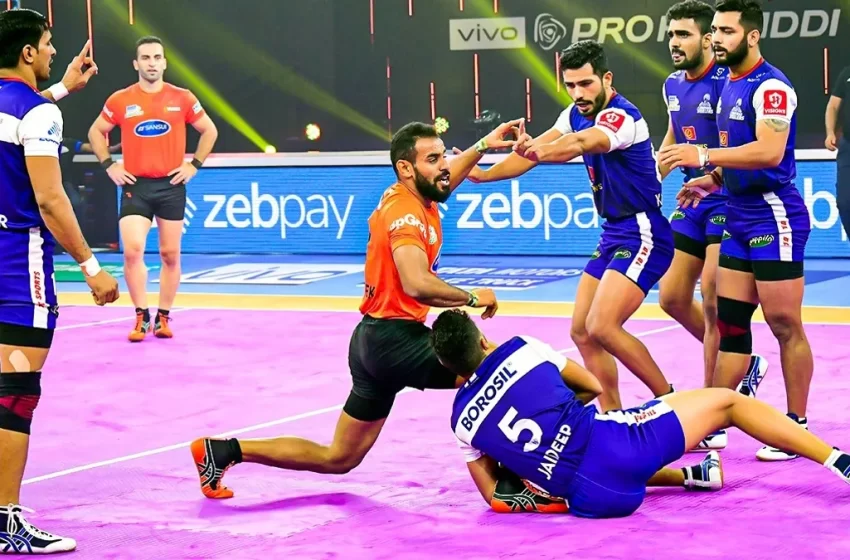 Image By PKL
Haryana Steelers Mount A Late Comeback To Earn Tie Against U Mumba
Vikash Kandola's assertive raiding in the game's dying moments helped the Haryana Steelers earn a 24-24 tie against U Mumba on Tuesday. The Steelers' Rohit Gulia was the game's top scorer with eight points, while U Mumba skipper Fazel Atrachali led his team by example, scoring a season-high four tackle points.
A low-scoring first half saw both defences do the bulk of the scoring for their respective teams. The raiders found success early, scoring six of the game's first seven points, but then the defences dominated proceedings.
A two-point raid from Abhishek Singh gave U Mumba a 7-6 lead, but Rohit Gulia and the Steelers' defence combined to help their side score three unanswered points to seize the advantage. The defences on either side added three tackle points to their team's total as the two sides went into the halftime break with the Steelers leading 12-10.
The opening six minutes of the second half yielded three points for both teams. U Mumba brought on substitute Ajinkya Kapre, and the young raider made an immediate impact, picking up a touch point to cut the Steelers' lead to just one. U Mumba's defence continued their incredible work and forced an error out of Steelers substitute Vinay to level the score and leave Haryana with just two men on the mat.
V Ajith Kumar's only point of the second half left the Steelers with just a solitary man on the mat, and U Mumba's pinned him down in the subsequent raid to inflict the game's first All Out and take a three-point lead.
The Steelers were the aggressors post the All Out and outscored U Mumba 4-2 in the next three minutes to cut the deficit to one point. Mohsen Maghsoudlou picked up a key touch point that extended U Mumba's lead to two, but Vikash Kandola responded with two quick points in two quick raids to level the score and leave U Mumba with just a solitary man on the mat.
Abhishek went in for the game's final raid, and after looking for an error from the Steelers' defence that wasn't forthcoming, he trotted back to his team's half to ensure the game finished in a tie.
Top Performers
Haryana Steelers
Best Raider – Rohit Gulia (7 Raid Points)
Best Defender – Surender Nada (3 Tackle Points)
U Mumba
Best Raider – Abhishek Singh (4 Raid Points)
Best Defender – Fazel Atrachali (4 Tackle Points)