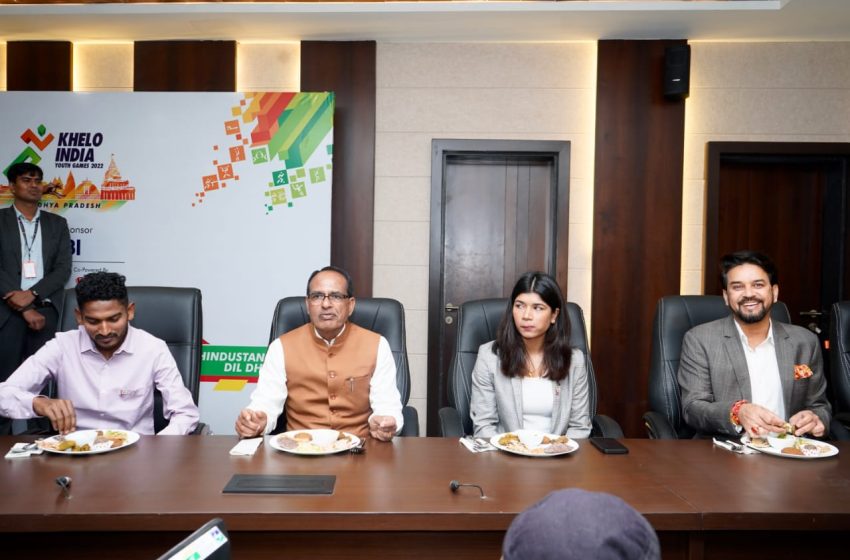 Millet Meal at Khelo India Youth Games in the presence of CM of Madhya Pradesh, Union Sports Minister, Nikhat Zareen and Avinash Sable
In a bid to celebrate the International Year of Millets, the Ministry of Youth Affairs and Sports and the Government of Madhya Pradesh organised a special Millet Meal for athletes and dignitaries on the day of the Opening Ceremony of Khelo India Youth Games 2023.
The event marks one of the several events organised by the Ministry of Youth Affairs and Sports to mark 2023 as the IYM. The event saw the Chief Minister of Madhya Pradesh Shri. Shivraj Singh Chouhan, Union Minister of Youth Affairs and Sports Shri. Anurag Singh Thakur, Minister of State of Youth Affairs and Sports Nisith Pramanik, Sports Minister of Madhya Pradesh Yashodhara Raje Scindia, along with CWG medalists boxer Nikhat Zareen and steeplechaser Avinash Sable, had a Millet Meal which included multiple Millet dishes.
The menu included nachini idli with coconut chutney, millet tikki with oats ragda, veg falafal with jowar pita pocket, agilo oilo hummus, mix millet kebabs served with mint chutney, ragi and dry fruit ladoo with ghee and granola bars.
Speaking about the importance of Millet as a super food Anurag Singh Thakur said, "The Honourable Prime Minister Shri. Narendra Modi ji's initiative to promote millets is critical because it is not just a super food with great nutritional value which is good for every Indian, but it is also critical for our small farmers who grow ragi, jowar, bajra and depend on the sale of their crop for their economic freedom. This Millet Meal is our endeavour to further promote millets among citizens through our youth icons Nikhat Zareen and Avinash Sable, who regularly consume millets in their diet. We have also included millet dishes in the regular meals of athletes in all our SAI centers because of the nutritional value it has."
Nikhat who hails from Hyderabad and has had millets of her diet since childhood said, "Millets are full of nutrition and is very good for everyone, and specifically for athletes since it gives a lot of strength and stamina which are critical while playing sport."
Sable added, "At a time when the Honourable Prime Minister is urging everyone to stay fit, because only fit citizens can contribute to the prosperity of the country, we must ensure that along with exercise, we also eat healthy. Millets are rich in nutrients and helps to keep in shape. I had the Millet Meal today and enjoyed it immensely because it was healthy as well as tasty."