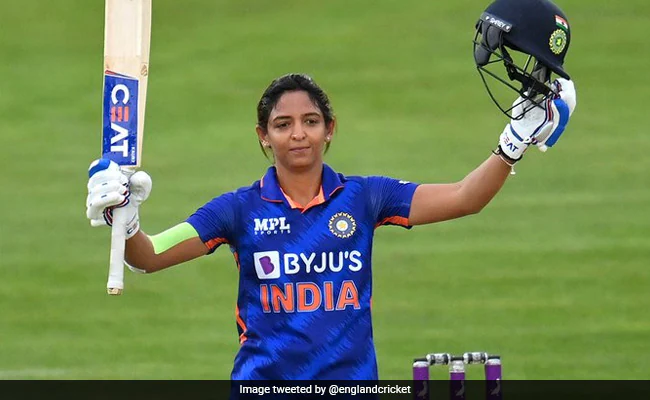 ICC Women's T20 World Cup are gearing up to go one better at the 2023 edition of the tournament in South Africa.
ICC Women's T20 World Cup: MS Dhoni led India to the inaugural ICC Men's T20 World Cup glory in South Africa in 2007. With the Women's tournament starting on 10 February, skipper Harmanpreet Kaur admitted that repeating history is on their agenda, recalling "several good memories" in South Africa
"As for South Africa, it has several good memories for Indian fans, and we are hoping to bring them more cheer. Our men's team played the final of the 2003 World Cup there and the women's team followed by making the final in 2005.
"The Indian men's team then did one better by winning the inaugural T20 World Cup in 2007. Will we be able to emulate them once again? Only time will tell, but we definitely are aiming to do that!"
India made it to the final of the 2020 Women's T20 World Cup, which Australia won on 8 March, International Women's Day, in front of a packed MCG crowd. 
"Our last match of the ICC Women's T20 World Cup – the 2020 final at the MCG – was watched by 86,174 spectators! That's inspiration enough as we prepare to begin our campaign this time," India skipper Harmanpreet Kaur wrote in her exclusive column for the ICC.
"That match, played on International Women's Day three years ago, was a huge moment for women's sport worldwide, as the iconic venue filled up for the Australia versus India match with fervour," she recalled.
Harmanpreet reflected on how much the Women's game has progressed since her early days. "I still get goosebumps remembering that match as I think of my earlier years on the circuit and realise the kind of progress women's cricket has made.
"I have played in all the T20 World Cups so far – in fact I debuted in the format at the inaugural edition in 2009– and have seen the pace of the game surge like anything," she said.
She admitted that the current No.1 team on the MRF Tyres ICC Women's T20I Team Rankings and five-time T20 World Cup champions, Australia, will go into the 2023 edition as favourites, but she also added that the other teams have also improved their game, thereby reducing the gap.
"I am sure this year's tournament in South Africa will be ultra-competitive," said Harmanpreet. "Though Australia go into the tournament as favourites, there is very little separating other teams, promising close matches and high-class performances.
"India have made the final of ICC women's global events three times – the 50-over World Cups of 2005 and 2017 being the other occasions – and are hungry for that evasive title as we go to South Africa with high hopes and the confidence of having an outfit that can beat any team on its day."
The India skipper is confident of her team's chances at the T20 World Cup, pointing out their recent success as well as the presence of a good mix of young and experienced talents, including Shafali Verma and Richa Ghosh who emerged victorious at the U-19 Women's T20 World Cup
"We have senior players as well as young guns like Shafali Verma and Richa Ghosh, who are fresh from the Indian team's victory at the Under-19 World Cup, play an attractive brand of cricket and now also have enough experience of top-class cricket. We have depth in batting and enough variety in bowling with Renuka Singh stepping up well in the pace department to do what is required against top teams."
"We have been preparing well too. We won the Asia Cup and silver in the Commonwealth Games in recent months. A home series against Australia in December further gave us the opportunity to test ourselves and try our combinations against a top side
. 
"Though we lost the series 4-1, there were enough thrills in the series for the thousands who thronged the Mumbai stadiums. The attendance in those matches also reflected the growing attention the women's game has been able to attract in recent times," Harmanpreet added.
"Now, it's all about us putting to use our experiences, remaining focussed and not getting overawed at crucial junctures. We have confidence in our abilities and understand that we need to step up a level to be remembered as a world-beating Indian side."