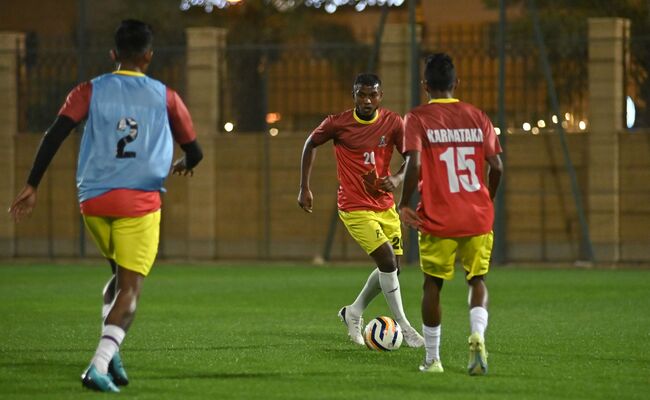 Meghalaya, Karnataka prepare for grand-stand Hero Santosh Trophy finish
Odisha in the group stage and if we lost we would not even have qualified. Then we were losing to West Bengal, and then to Punjab. So one way to look at it is that the boys have a lot of heart and know how to battle adversity," said Syiemlieh.
"We know that Karnataka are good on the ball and have a lot of talented players who are playing in clubs and in ISL reserve sides. But we are undaunted. The boys know the gameplan and will stick to it," he said.
The Meghalaya head coach also thanked the fans and urged them to keep supporting the team in the final.
"Our phones have been flooded with congratulatory messages. Even on social media, there has been an outpouring of love from fans in Shillong," he said. "Everyone is excited. It gives us a lot of heart that they are supporting us from afar. It's a moment of pride for us, and we want to take this trophy back to Shillong."
While the long tournament has meant Karnataka's solid team unit has gelled and become a better one, for Meghalaya it has offered old war horses a chance to shine. Brolington Warlapih only joined the team for the Final Round, missing out on the Group Stage because he wanted to spend time with his family during Christmas.
The 34-year-old has been turning out in the state team's colours for almost a decade, and was included in the fold with the intent of ensuring the young team had a mature spine. "This is the last dance, for sure," he says. "I will retire after this and I want to do so on a high, by bringing our state this long deserved glory."
There is similarity and also strong contrast in these two teams. Karnataka hold the head to head edge (having won both previous encounters), and enjoy keeping the ball and shifting flanks. Meghalaya do so too, but rather than crossing it from the wings, prefer to make inroads through the middle in the final third. Karnataka's players all come through the academies of the state's new modern clubs, and are from all across India while Meghalaya are boosted by the pure strength of their domestic talent. It is a great amalgamation of how diverse the game is and how Vision 2047's approach can be fulfilled in two completely different ways — by boosting local participation and inviting stronger club structures.
For those at the Golden Tulip, though, the long term gains are of tertiary concern – once the match kicks off at the King Fahd Stadium at 9 pm IST, and the Indian Football fans tune in on Doordarshan Sports or FanCode platforms, all that will matter to the teams and the fans alike is who wins the trophy and etch their names in the annals of Indian Football history.