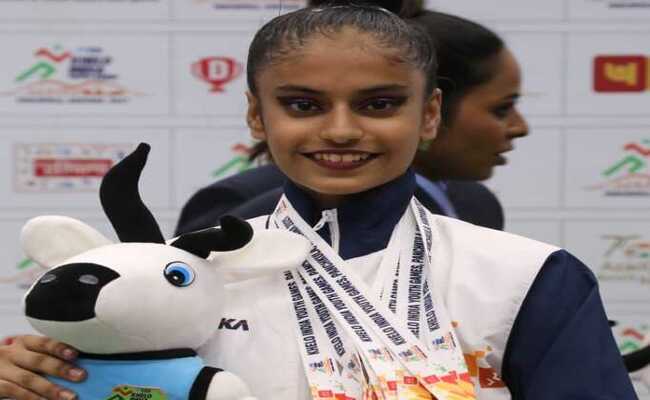 KheloIndia:Rhythmic Gymnast, Sanyukta Kale's Biggest Competition Is With Herself
KheloIndia: Sanyukta Kale bagged all five gold medals in the rhythmic gymnastics category in the fourth edition of the Khelo India Youth Games held in Panchkula. Sanyukta is once again participating in the Khelo India Youth Games and when she steps on the floor at the Laxmi Bai National Institute of Physical Education, Gwalior – host to the gymnastic event, she will be battling it out against herself as she will have to prove that what she did in Panchkula was not just a one-off.
Sanyukta who belongs to a middle class family took to the gymnastics floor at the age of five. In Panchkula, Sanyukta had won four golds in the individual all-around besides the individual apparatus – hoop, ball, club and ribbon. Sanyukta had a clean sweep in this event with a total of five gold. Sanyukta is ready to participate in the Khelo India Youth Games 2022 Madhya Pradesh fresh from her individual all-round gold at the National Games held in Gujarat and her two gold and three silver medals in the 25th National Championship held in Bengaluru this month.
Regarding her prospects and preparations in Khelo India Youth Games 2022 Madhya Pradesh, Sanyukta said,
"My preparations are very good. All of us, the gymnasts who are participating in from Maharashtra are working hard. I am practicing at the Phoenix Academy under the supervision of Manasi Surve and Pooja Surve, who are my childhood coaches. I practice for 6 hours a day and my family and coaches take care of all my sporting needs. My performance in Gwalior will matter a lot as it will give me more international exposure. This year I am competing against my own Academy's Kimaaya Karle but my real fight is with myself."
Sanyukta has also been recognized by the International Gymnastics Federation (FIG) and has been included in FIG's list of top gymnasts around the world. This is a great achievement for her and a testimony to her hard work and dedication. Apart from Khelo India Youth Games, National Games and National Championship, Sanyukta has also participated in many international events.
Sanyukta's coach Manasi Surve highlighted her achievements. Mansi said,
"Sanyukta has won a total of 130 medals in her career so far, out of which 119 are gold medals. In 2019, Sanyukta had qualified seventh in the club apparatus in the Asian Championship held in Thailand and created a history for India. India could never qualify in the top-8 before. She then went on to play in the World School Games in France and the Asian Championships in Thailand in 2022. There she was given two apparatus instead of three. She topped them too."
Sanyukta, who created waves with her performance on the gymnastics floor in Panchkula, is all set to repeat her performance once again. When asked how her life has changed after participating in Khelo India Youth Games, Sanyukta said,
"I got a lot of exposure after participating in Khelo India. At that time it was competition time, so I participated in many events. For me there is nothing else in my life other than sports and studies, so I focus on this all the time and am ready for Khelo India once again."
Maharashtra will be participating in this edition of the Khelo India Youth Games 2022 MP with over 450 athletes competing in all the disciplines. Some prominent names include Vedaant Madhavan (Swimming), Shardha Chopade (Judo), Akanksha Vyavhare (Weightlifting; 40 KG Category), Bhumika Mohite & Nikita Kamalkar (Weightlifting; 55KG Category), Bishal Changmai (Archery), Vishwanath Suresh (Boxing 48 KG Category), Usman Anasari (Boxing 55 KG Category) and Devika Ghorpade (Boxing 52 KG category).
Over 5000 athletes from across the country will participate in the Khelo India Youth Games 2022 being hosted by Madhya Pradesh for the first time. Honourable Chief Minister Shri. Shivraj Singh Chouhan will formally inaugurate the Games on January 30 in Bhopal. This edition of the Khelo India Youth Games 2022 Madhya Pradesh will be hosted across eight cities in the state Viz; Bhopal, Indore, Gwalior, Jabalpur, Ujjain, Balaghat, Mandla, Khargone (Maheshwar) while the track cycling event will be held in Delhi. This edition will have competitions in 27 sports and will also see Water Sports making a debut into the Khelo India Youth Games roster.