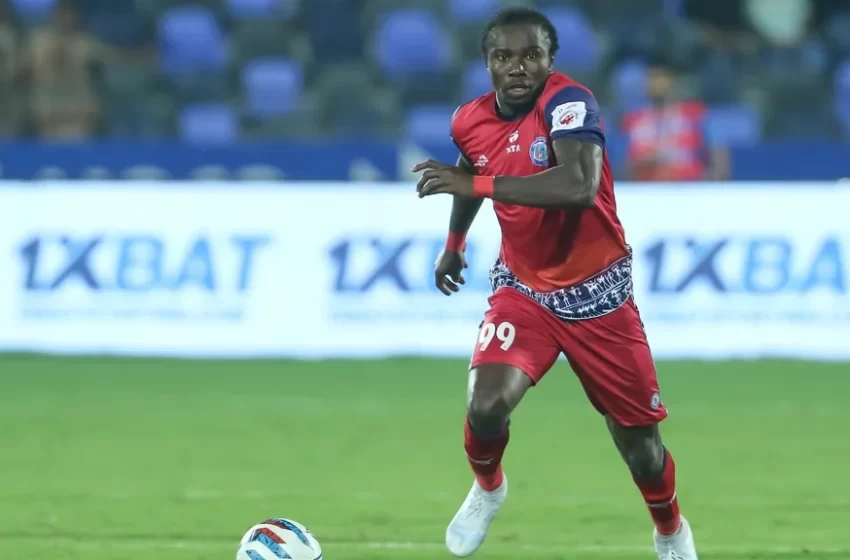 ISL2022 : I am only trying to be in the right position at the right time, hoping for goals, which happened in the last two games Daniel Chima
ISL2022: Daniel Chima Chukwu has been scoring goals ever since he has joined the Hero Indian Super League (ISL) in the 2021-22 season. The striker joined Jamshedpur FC from East Bengal FC in the middle of the campaign to take the Red Miners to the next level and help them win the League Winners' Shield.
Chukwu has began Hero ISL 2022-23 in similar fashion as he has scored in each of Jamshedpur FC's two matches so far and seems to have forged a good partnserhip with Harry Sawyer upfront, just like he did with Greg Stewart last season.
ISL2022 The 31-year-old will be key to Jamshedpur FC's hopes this season as he gives them an option to play direct football if there is a need.
Among the leaders in the dressing room, Chukwu believes it's a fresh season for Jamshedpur FC and they should not let last season's success burden them this campaign.
Chukwu spoke to indiansuperleague.com in an exclusive chat after the game against Mumbai City FC about his goal-scoring form and his journey with Jamshedpur FC.
Here are the excerpts:
Two goals in two games, and you have continued from where you left off in the last season. What is the key to a good start to this season?
I am only trying to be in the right position at the right time, hoping for goals, which happened in the last two games.
In the last season of the Hero ISL, you had Greg Stewart, a different kind of striker, and now you have Harry Sawyer, a different kind of striker. How are you able to adapt to these types of forwards?
We have to deal with the fact that he (Stewart) has left the team and try to make amends with everything that we have got. And for me, it does not matter whether to be a lone striker or have to play with a strike partner. Everything is dependent on what and how the coach wants us to play
How is the team different, and are the plans any different from last season under Aidy Boothroyd than someone like Owen Coyle, who was also a very successful coach?
Every coach has his pattern, and the new coach brings in his new strategy. We are very happy with him (Boothroyd) and would do more with whatever he expects from us.
Concerning the training, everybody has their program, and it is not much different from last season. As I said, everyone is indeed happy with the coach.
This year you are the defending champions which bring obvious pressure and expectations. The fans and people around expect Jamshedpur FC to win every game. So, how do you cope with the pressure as a team and try to get along with the youngsters?
You have to tell everyone in the dressing room to calm down and not to get winded up. We will end up playing rubbish if we let the pressure get into us; we need to relax and play each game as it comes.
The sort of goal Jamshedpur FC scored in the game against Mumbai City FC from a long throw-in. Did the team work on it in the training ground?
We scored from a long throw-in which we practiced on the training ground, and that was the plan from the coach, and all the players agreed to it as we ended up scoring the all-important equaliser against Mumbai City FC.
What is the goal target for this season?
There is never a target as such at the beginning of every season of the Hero ISL. I try to score as much as I can to help the team achieve the set objectives.
You are accompanied by a young Indian striker, Ishan Pandita. What qualities do you admire of him, and where can he improve with his game?
I do not think he needs to work a lot on his game as he possesses pace and shooting ability, and his finishing is quite good. He (Ishan) requires only a chance to score the goal. So, for a player at such a young age, the sky is certainly the only limit for him.