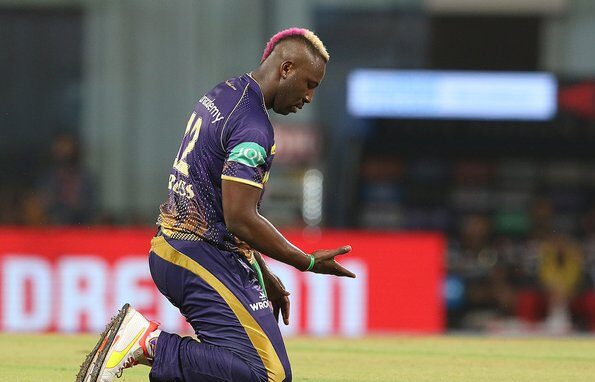 IPL 2022: McCullum reveals Russell was injured in the match.
IPL 2022: KKR coach Brendon McCullum reveals why Russell did not bowl his 4 overs.
IPL 2022: KKR lost the match against RCB on 30th March in the Tata IPL 2022 season. RCB chased down the target of 129 in the 20th over to get their 1st win.
This was Andre Russell's 400th T20 match
Andre Russell was supposed to bowl out his quota of 4 overs but, was unable to.
According to Brendon McCullum, he sustained an injury to his bowling shoulder while trying to stop a boundary.
The former New Zealand player said ""Dre had run around the boundary and dived, and unfortunately picked up a little bit of a bump. His shoulder was a little bit sore. But Dre being Dre, he still wants to try to get the job done, and he wasn't quite able to. Those are things which happen in low-scoring games,"
Andre Russell tried to bowl the match winning over but Dinesh Karthik hit two boundaries to help RCB over the line.
Also read: https://www.sportstrumpet.com/ipl-2022-rcb-win-their-first-match-of-ipl-season-vs-kkr/
Many heads were turned when DK was pushed down the order but, it turned out to be the right call.
Dinesh Karthik along with Harshal Patel ensured that RCB go on to get their first points of the season.
"I actually loved the intent to be honest. I thought the intent was great. You back the fact that you played the extra batter, and you played a long batting line-up. You don't anticipate being bowled out obviously," McCullum said while talking about the match
"Honestly I felt we didn't have a lot of luck today. Every time we sort of went for our aggressive option, we seemed to find a fielder or things didn't quite go our way. That can happen sometimes. But I want us to continue to keep that intent because that served us so well last year. The way we set our teams up at the auction, and the players we picked, it suits them as well," the New Zealander added.
KKR now take on high flying Punjab Kings on 1st April. Punjab Kings beat RCB in their first encounter, when they chased down 206 with 1 over to spare. They will be boosted by the arrival of Kagiso Rabada. A tough match for KKR is on the cards.