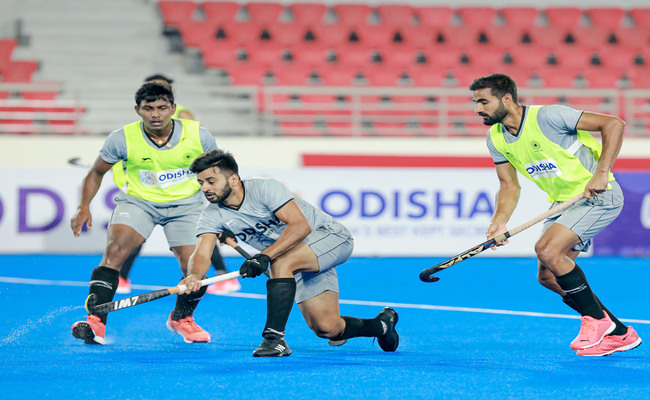 Indian Men's Hockey Team gear up to take on World Champions Germany in FIH Men's Hockey Pro League 2022/23
The Indian Men's Hockey Team will eye redemption when they take on the newly-crowned World Champions Germany in the FIH Men's Hockey Pro League 2022/23 match on Friday at the Birsa Munda Hockey Stadium in Rourkela.
Led by star drag-flicker Harmanpreet Singh, the Indian Men's Hockey Team exited the FIH Odisha Hockey Men's World Cup 2023 in the pre-quarterfinal stage. The team will aim to regain their confidence by putting up an excellent show in the FIH Hockey Pro League 2022/23.
Ahead of the match, Harmanpreet Singh, who is currently one of the three joint top-scorers with six goals to his name in the tournament, said that every game is challenging, but the Indian Team considers it an opportunity to improve as a team and perform better in future.
"Every match at this stage is challenging for us, especially when the oppositions are Australia and Germany. However, it's good for us that we are getting to play such challenging matches as our focus is on Asian Games. So, we will make sure that we improve as a team by playing such games and give our best in the future," Harmanpreet said.
Meanwhile, Hardik Singh, Vice-Captain revealed that going forward, India will tweak their strategy but their core values will remain the same.
"There will be minor changes to our strategy, but our core values and principles of the team will remain the same. Also, we will not only focus on our attacking style of play but also work on keeping the possession," Hardik said.
India, who are currently fourth in the points tally, hosted New Zealand and Spain at the Kalinga Stadium last year in October at the FIH Hockey Pro League 2022/2023. The Indian Men's Hockey team kicked off their campaign with a superb 4-3 and 7-4 win against New Zealand, followed by a 3-2 loss and a 2-2 draw against Spain.
On the other hand, the Germany Men's Hockey team, who are ranked fifth in the FIH Men's Hockey Pro League 2022/23 with eight points from four games, will be oozing with confidence having won the FIH Odisha Hockey Men's World Cup 2023 recently.
Led by Mats Grambusch, the German team will aim to continue their rich vein of form and will be eager to put their best foot forward against the hosts. However, Grambusch believes that the World Cup win is now a thing of the past and the team needs to keep working on becoming better with each passing day.
"All our matches in the FIH Odisha Hockey Men's World Cup 2023 were really close as we won our quarterfinal and final games through shootouts. We secured victory in the semi-final in the last few seconds of the game. So, considering that there will be many competing games against some good teams like Australia, India, Belgium, and Netherlands in the leadup to the 2024 Paris Olympics, we have to improve what we can improve and that's going to be our focus," Germany Men's Hockey Captain Grambusch said.
"To be honest, we don't care about being the current World Champions or World No.1 team. We want to be as successful as possible," he added.
Last year in November, at the FIH Hockey Pro League 2022/2023, Germany registered victories in two matches. They clinched a hard-fought 3-2 win against Belgium, while they defeated Argentina 3-0. In the reverse fixtures, the Germany Men's Hockey team lost 0-1 against Belgium before beating Argentina in the penalty shootout.
As per the tournament format, Rourkela will host all six matches, where India, Germany, and Australia will play each other twice.
India will lock horns against Germany in their first match on March 10 and their second match against Germany will be played on March 13. India will take on Australia, the reigning Commonwealth Games champions, on March 12 and 15. All games will be held at 1900 hours IST.