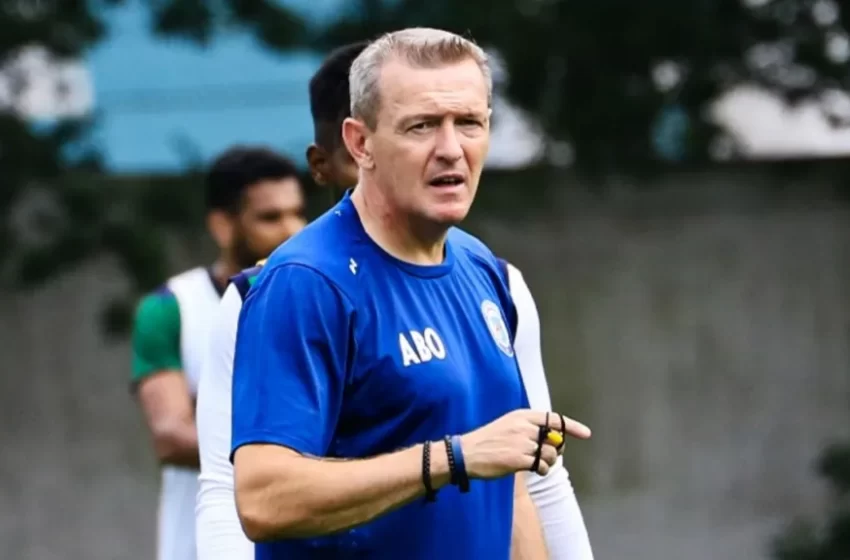 I thought we didn't make a good decision in our passingJamshedpur FC head coach Aidy Boothroyd
Jamshedpur FC head coach Aidy Boothroyd rued instances of poor decision-making while in possession in the final few minutes as his team led a 2-0 lead slip to lose 2-3 against Odisha FC in the Hero Indian Super League (ISL) match at the JRD Tata Sports Complex in Jamshedpur on Wednesday.
Daniel Chima Chukwu and Boris Singh gave Jamshedpur FC a 2-0 lead in the first ten minutes but a brace from Diego Mauricio and a goal from Isaac Vanmalsawma helped the visitors produce a stunning comeback.
Match Report: Odisha FC score two late goals to edge Jamshedpur FC in a thriller
Boothroyd stated that his team will have to go back to the drawing board and iron out their mistakes from the first match before their second game against Mumbai City FC.
The Englishman addressed the media after the match.
Here are the excerpts from the post-match press conference:
Jamshedpur FC led 2-0 but eventually lost the match 2-3. What was the problem that led to this? Did the pitch or weather play any part?
First of all the effort of the ground staff to get the game on was massive. So, they did their bit. The supporters staying in through the rain was fantastic. I thought that was really very good. So they did their part as well. But unfortunately, after a brilliant start, I thought we were excellent for the first 20 minutes but after that, we hit a brick wall and made some bad decisions, I think that always happens when your team is new and you trying to build something. We will recover, we will bounce back. Everyone is very disappointed. You hate football when you lose that way but you have to get on with it.
Odisha FC enjoyed more possession in the second half. After taking a two-goal lead, did the team go into a defensive mode?
I don't think so. I thought we didn't make a good decision in our passing. We gave the ball back to them very easily. We have to stop unforced errors by playing together and working together. We need to iron them out on the training pitch and see if we can keep possession better.
What is the update on Ritwik Das' injury?
I think he was outstanding. Probably our best attacking player. On the injury, I am not going to say anything about the opponent. You have to take this on the chin when we lose in this manner. I am looking for the positives and the positives are players like Ritwik who were excellent.
Jamshedpur FC are defending Hero ISL League Winners. Having lost their first match at home, how much pressure is the team under?
We are not under any pressure. The only pressure that we face is the pressure we put on ourselves on a daily basis to be a really good team. There was always going to be a changeover from a team that wins. So it's upto us now to get close to that or go beyond. That's what we have to try every single day. While it's disappointing, you can use nights like these and results like these in a positive way and focus on the next game. We have to give a good account of ourselves.
Why did Jamshedpur FC become defensive in the final few minutes of the match?
I think it's human nature to protect what you have. It's certainly not a tactic. As we were trying to shore up at the back, we were trying to get counter-attacks with Len Doungel and Ritwik and hold up the ball with Harry (Sawyer). So that was the plan, to not just soak up and counter-attack but to also have a threat. It's because we gave the ball away in the end, and we got ourselves into difficult situations.
A team learns from every loss. What did Jamshedpur FC learn from this defeat?
I think looking at the whole event, the weather, the supporters, and this being our first home, I think 1-2 of our players were over-aroused. We started very well but then we seemed to drop off rather than pick it up. I do think that we should have had a penalty. But we are a new team, so we are going to get a few knockbacks along the way but also some positives as well.
Your defence seemed to be found wanting at the end of the match. Does it concern you?
It doesn't. It certainly needs work as we have conceded three goals. So we will analyse that. That's the first thing that we have got to do. Normally, we are very good defensively. We were good at it in pre-season. I think it's human nature to drop off but we have to do some work on it. Then it's up to us to start putting points on the board.
What is your take on the fans?
We are very disappointed because of the occasion. It was never going to be easy, the first game back. The stadium was looking fantastic and we appreciate how the supporters supported us. Even after we lost, our supporters clapped us off the pitch which is a sing of real, true supporters. That makes the result feel even worse. People have come and it's a really good crowd and we have let them down.