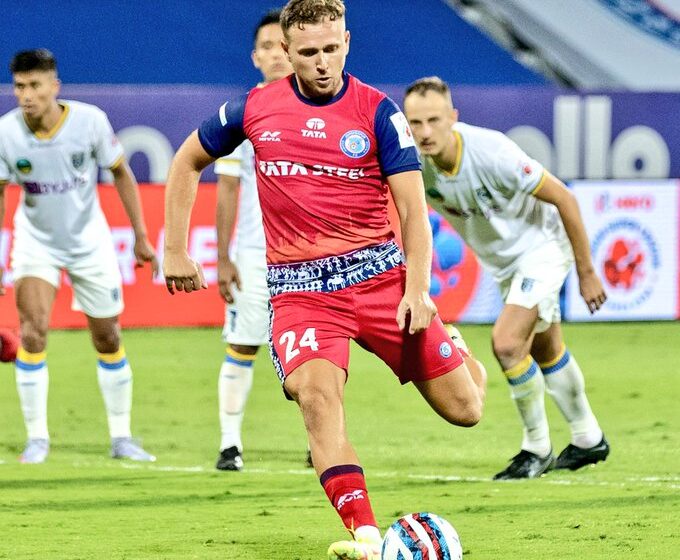 Greg Stewart: Jamshedpur star wins Hero of the League.
Greg Stewart has been chosen as the Hero of the league for ISL 2021.
Hero of the league
Greg Stewart was signed on a free transfer by Jamshedpur FC from Scottish champions Rangers. He was the focal point for Jamshedpur.
The Scottish player was involved in almost half of the goals that his side scored this season. Jamshedupur FC scored 43 goals, off which Greg Stewart scored 10 and assisted another 10.
Out of a panel of 16 experts, 14 off them said that Greg Stewart deserved to win the Hero of the league title.
The Scottish star man of the match award a record 7 times this season!
He helped his team finish top of the table but, eventually lost to Kerala Blasters FC in the semi finals. They lost 2-1 on aggregate.
Even in the semi finals, Jamshedpur FC scored from a dangerous Greg Stewart set piece.
Deservingly, Greg Stewart has been chosen as the Hero of the league.
Golden Glove
Kerala Blasters goalkeeper Prabhsukan Gill was awarded the Golden glove. He kept 7 clean sheets throughout the season.
The goalkeeper also made 47 saves with a save percentage of 70.
Kerala Blasters had the best defense this season and Prabsukhan Gill is a crucial part of it.
Golden Boot
Hyderabad FC star forward Bartholomew Ogbeche deservingly won the golden boot award.
The 2021-22 season champions were the top goalscoring side in the league and Ogbeche was one of the reasons why.
The Nigerian footballer netted 18 times in 22 matches en route his teams title charge.
He was a key player for the eventual winners who won the Hero ISL title on penalties against Kerala Blasters. Ogbeche did not get an opportunity as goalkeeper Laxmikant Kattimani saved 3 penalties to help his team win its maiden ISL title.
Also read: https://www.sportstrumpet.com/hyderabad-fc-are-crowned-champions-of-the-hero-isl-2021-season/
Ogbeche also equaled Ferran Corominhas' record for most goals in a season.
Emerging player of the season
Bengaluru FC did not perform to their best this season. Still, Naorem Roshan Singh earned the limelight as he was chosen as the emerging player of the season by the panel of experts.
The young fullback provided 7 assists this season. Highest provided by an Indian and third highest overall.
He also has a goal on his CV to go along with his 7 assists.
The young star performed his defensive duties well, earning many plaudits fir his performances.
Roshan Singh just edged out over Prabsukhan Singh with 7 experts voting for him compared to the latters 6. Liston Colaco and Ruivah Hormipam shared the remaining 3 votes.
A great season of football that came to a fitting end as Hyderabad FC won their maiden ISL title.