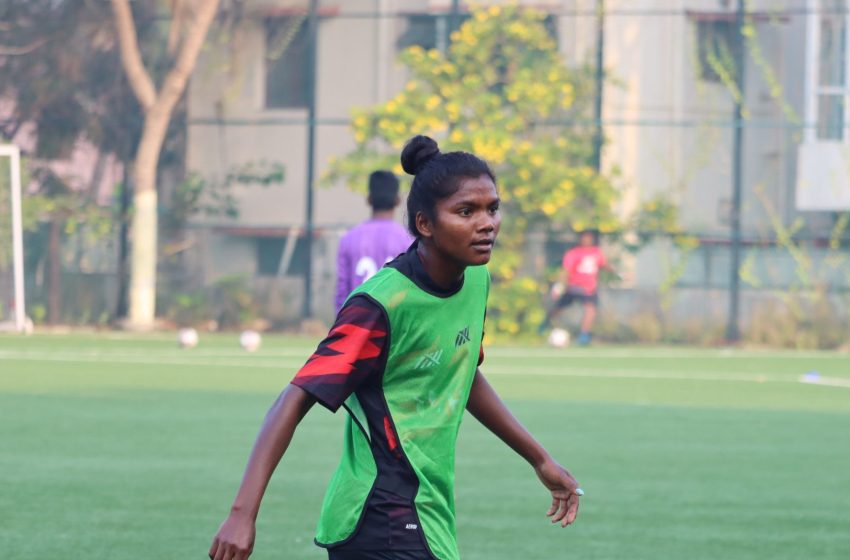 Football has the power to change people's lives like Sumati and Amisha
Football has the power to change people's lives," an oft-quoted phrase that not many take too seriously sometimes. But Sumati Kumari and Amisha Baxla, the two Jharkhand girls in the current India U-20 Women's National Team camp in Chennai, refuse to fall into this category.
To the two young girls, football is the true life changer — it gives them deep mental peace and satisfaction. Football, more than anything else, provides them with positive vibes.
Sumati and Amisha are now training at the Home Games Sports Arena in Chennai for the forthcoming SAFF U-20 Women's Championship, which will take place in Dhaka, Bangladesh, from February 3–9, 2023.
Sumati, still a teenager, has already suffered a lot in her life. But every time she was hit by a tragedy, all she did was cling more to football. It erased a lot of her agony and made her more determined to become a better footballer.
Hailing from the Gumla district in Jharkhand, the 19-year-old Sumati Kumari is an unusually strong girl. Back in 2019, she suffered a massive personal tragedy as her mother passed away when she was in the National camp in Goa. As her village had no telephone connection, the news of her mother's demise reached her two days later. A devastated Sumati had a choice to make – to go back home to her family or stay in the camp and represent the nation. She decided to stay since she knew playing for the country would definitely have made her mother proud.
"When I was in Goa, I got the news of my mother passing after two days. I was helpless and couldn't do anything about it. My coaches told me to leave for home, but I decided to stay and play for the country because that's what gave me the mental peace I was looking for," said Sumati.
"That was really a difficult phase of my life. But being on the field with all my teammates gave me the strength to forget my pain to some extent," she told www.the-aiff.com.
Sumati is one of the most important members of the Indian team. If not for her agility and pace on the flanks, the Young Tigresses would not have been able to create the number of chances they did in the U-17 women's tournaments in 2019. Such was Sumati's impact that India's U-17 Women's World Cup team coach Thomas Dennerby was hugely impressed by her talent and picked her for the Senior Women's team for the AFC Asian Cup 2022.
But tragedy and misfortune struck Sumati once more. She fractured her right knee and couldn't play football for a few months. Fortunately, she is now back on the pitch and gearing up to score goals for the country again.
"I am happy to contribute to the team in whatever manner I can. I have been with both the senior and junior teams, and I feel amazing wearing the India jersey. I missed playing my favourite sport for a few months, but now that I am back, it gives me immense joy and happiness. And I know that my mother is looking from the sky and feeling proud of me. Whatever I do, it's for her," said an emotional Sumati.
Amisha Baxla is another strong-headed girl from Gumla district, Jharkhand, who is a constant menace for the rivals down the right wing whenever she dons the blue of India.
She has been the key player for the team in every age-group tournament she has played, most recently in the SAFF U-18 Women's Championship winning-team in Jamshedpur last year.
"It's now another tournament and another challenge for us to overcome," said Amisha of the upcoming Dhaka meet. "We have been preparing hard under coaches Maymol Rocky and Thomas Dennerby for the last two weeks and are ready to face our opponents in Bangladesh.
"I will use all my learning experiences from the previous tournaments to win another title for my team and my country again," said an excited Amisha.
Amisha too suffered a career-threatening injury, and had to undergo surgery on her left knee last year. It was undoubtedly the most painful few months for her. However, that was not to deter her from chasing her dreams in any way.
"I did not lose hope. I knew I would be back in a few months to help my team play good football. This game gives me the immense peace of mind I am looking for. When I have the ball on the pitch, it gives me an emotional feeling that I cannot express in words. To me, football is everything – it's a kind of painkiller that is smooth, soothing and with no after-effects," Amisha added.