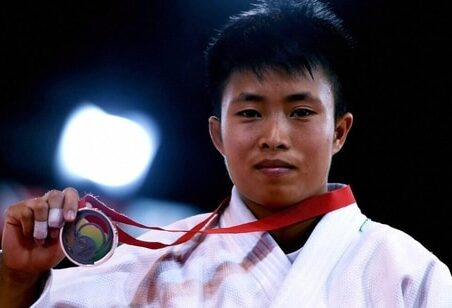 File Pic
Commonwealth Games 2022: Sushila Devi has made history,Vijay Kumar Yadav also won bronze,hockey, India have drawn 4-4 against England
Sushila Devi has made history. This female judo player won a silver medal in the 48kg weight category at the Commonwealth Games (Commonwealth Games 2022). In the final, Sushila lost to South Africa's Michella Whiteboi. India has won 8 medals so far in the current Games. This includes 3 gold medals. Apart from this, he also got 3 silver and 2 bronze medals. Earlier, all the 6 medals came from weightlifting.
Likmabam lost the women's 48kg final against South Africa's Michaela Whitebooi to settle for a silver medal. Vijay Kumar Yadav also won bronze in men's kg judo after beating Cyprus' Petros Christodoulides. Also, two other judokas will fight for the bronze medal. In hockey, India have drawn 4-4 against England in a Men's Pool B hockey match. It has been a great day for India so far as the country found unlikely heroes.
Earlier, all the 6 medals came from weightlifting. Now 2 medals have come from Judo. At the same time, the lawn balls team has reached the final and secured a medal. The 27-year-old had earlier won a silver medal at the 2014 Glasgow Commonwealth Games. This is his second medal overall. Sushila Devi was in trouble for a long time due to injury and she had made it to the extent of quitting the game in 2018.
Due to a hamstring injury, he had to stay out of the game for about 7 months. Not only that, they also lost in the trials of the Asian Games. Then he said I was broken. I thought my judo career was over. Through the Asian Games, I wanted to prepare for the Olympics. After the defeat my heart was broken and went back home for a break for 3 months.
Sushila Devi, however, did not give up and made a great comeback, winning two consecutive silver medals at the Hong Kong Open in 2018 and 2019. He had to go through difficulties to prepare for the Olympics. To meet the expenses of the tournament, he had to sell his car up to the time. Then he said that I had put everything at stake for judo. I have nothing left. After that, she qualified in the Tokyo Olympics. However, they could not win a medal.