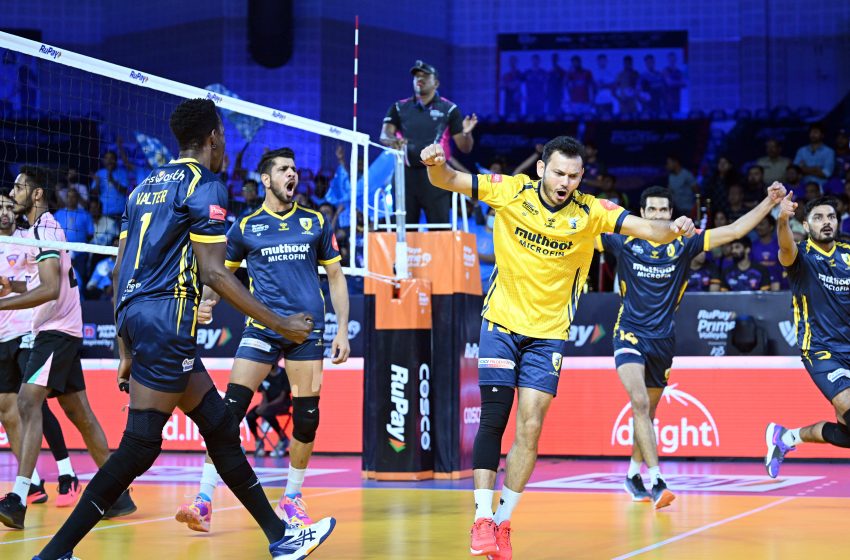 RuPay Prime Volleyball League
'Bengaluru Torpedoes' uphill journey continues with win over Kochi Blue Spikers
Bengaluru Torpedoes picked up their third win in a row in the second season of the RuPay Prime Volleyball League after beating the Kochi Blue Spikers 15-14, 15-11, 7-15, 15-12, 14-15 at the Gachibowli Indoor Stadium in Hyderabad.
Bengaluru relied on Srajan's blocks and Ibin Jose's attacks to get an early lead. Taking a leaf out of Kolkata Thunderbolts' guidebook, Erin Varghese started targetting Tsvetelin Tsvetanov from the service line and the strategy worked in the Spikers' favour.
Kochi did well to keep Tsvetanov quiet. Just when the Spikers appeared to be in control, Sethu TR, with a super serve, showed that Bengaluru will not back down easily. The Torpedoes struggled to tackle Erin's relentless attacks. With powerful serves, the Spikers pushed the Torpedoes backward, forcing them to react. But as Alireza Abalooch came to the court, skipper Pankaj Sharma became free to make an impact from the middle.
Srajan and Ibin's defensive blocks once again brought Bengaluru back to take control of the match. Riding on Erin's spikes, the Blues found another opening. Abhinav combined with Shubham Chaudhary to put a halt to Tsvetanov while errors from Mujeeb hurt Torpedoes.
Tsvetanov came late to the party but once he did, Kochi's defensive structure began faltering. With consistent spikes, the Bulgarian tilted the game completely. Srajan continued to become better with blocks and he closed down the game to help Bengaluru Torpedoes register a stunning 3-2 win.
Hyderabad Black Hawks will be up against Chennai Blitz at the Gachibowli Indoor Stadium on the fourth day of the Hyderabad leg of the RuPay Prime Volleyball Leag