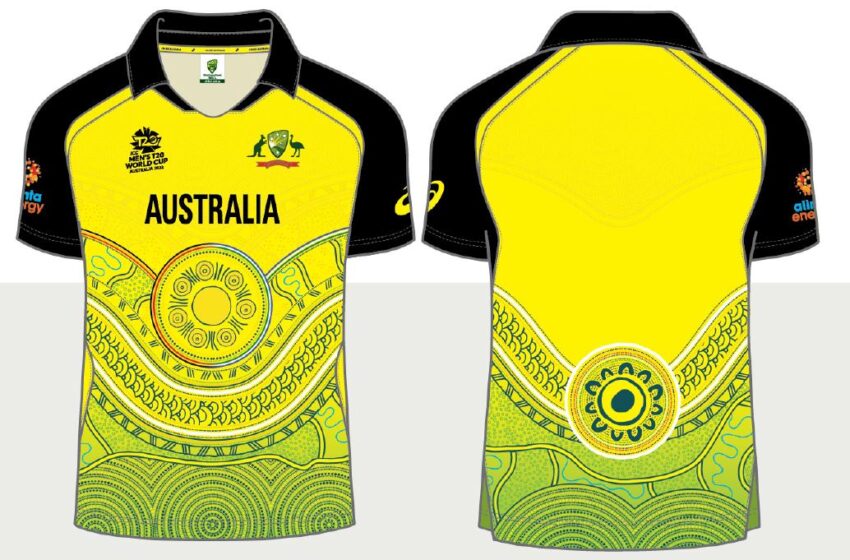 Australia's Indigenous kit for T20 World Cup revealed
Hosts to wear an Indigenous inspired jersey for the first time at a World Cup event when they aim to defend their T20 crown this year
Australia will wear an Indigenous-themed kit at this year's T20 World Cup, the first time an Australian cricket team has worn a playing strip representing the First Nations at a global event.
With black sleeves and a green and gold gradient on the trunk of the playing top, artwork flows around the shirt that will be worn by Aaron Finch's squad as they seek to defend the T20 World Cup on home soil later this year.
The long-sleeved version will see the gold and green artwork extended onto the sleeves of the top, while the pants will be black and a cap will feature the colours of both the Aboriginal and Torres Strait Islander flags on the brim.
The kit was designed by Aunty Fiona Clarke and Courtney Hagen, in collaboration with Asics, with the pair having previously worked together on other Indigenous designs worn by Australia.
in previous designs, the Walkabout Wickets artwork that has become a prominent motif is again central on the front of the shirt.
Walkabout Wickets was painted by Clarke, a Kirrae Whurrong woman who is the great great grand-daughter of James 'Mosquito' Couzens, who played in the Aboriginal XI in a landmark match at the MCG in 1866, and also toured England in 1868, the first sporting team from Australia to play abroad.
Clarke created the artwork ahead of the 2016 Boxing Day Test to commemorate the 150th anniversary of the 1866 match, and it has been included on the collar of the Test shirt ever since.
It pays tribute to the past, present and emerging First Nations cricketers, and connection is an important theme for the kit, that is available for purchase as a replica kit.
"The overall design is to do with the process of connecting with yourself as an individual, as a team, in the community and whatever is surrounded by you … with the river, the land, whatever you see," Clarke said.