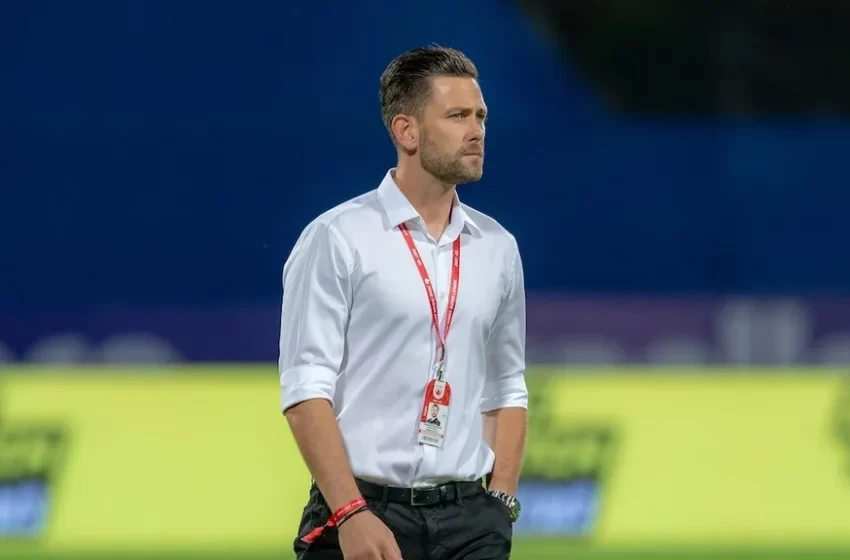 IMAGE ISL
"We've made too many mistakes "
Mumbai City FC head coach Des Buckingham spoke about his team's worrisome mistakes in the last three matches and wants his players to buckle up in the defensive department, as his side faces SC East Bengal in matchday 52 of the Hero Indian Super League (ISL) 2021-22 season on Friday at the Tilak Maidan Stadium in Vasco, Goa.
Buckingham hailed the skillsets of Vinit Rai, the former Odisha FC captain who they acquired on loan for the rest of the season, as it adds to the quantum of quality options in midfield at Mumbai City FC, a booster for the upcoming set of fixtures. However, it's unlikely that he will feature against SC East Bengal.
Ahead of the match against SC East Bengal, the Islanders head coach addressed the media during a pre-match press conference.
Here are the excerpts from Buckingham's press conference:
The club has announced the transfer of Vinit Rai. What aspects would he bring to the team for the ongoing season?
I think he has a wonderful skill set and I've spoken since I arrived here about having the best Indian players at this club and he certainly fits that profile for that and also how we want to play. And what he also does is, he contributes to an already good midfield with us and just gives us different options whether it's to start or to change the game up should we need at any point.
What has been your assessment of goalkeeper Mohammad Nawaz in your team?
Nawaz has played all nine games and you know, it's easy to pull out mistakes. But I think it's also important that you reflect upon the nine games as a whole. There are some important moments where the goalkeepers don't get the credit when the team goes on to get the desired results.
And I can certainly use examples off the top of my head, like [against] Bengaluru, where he saves the penalty from Chhetri that allows us to go on and win that game. So, you know, it's not necessarily just about looking at mistakes. So, I'm happy with him up until this point, as we look across the nine games.
What's your strategy against SC East Bengal? How are you looking forward to the game?
Whenever you play a team that's just had a change of coach, I think anywhere around the world, sometimes you see an uplift, not just in the performance, but in results too. So, it's something that we're very aware of and I go back to what I said here several times. I don't think it's where the teams are in the league [table] doesn't play a reflection on the outcome of some of the games.
We're very aware of the threats they pose, we see an uplifting performance and result from them in the last game, but the focus is on us and making sure that the 60-minute performance we had against Odisha from the first half onwards, we need to make that more consistent across the 90 minutes and also being sounder defensively.
What went wrong with Mumbai City FC in the last three matches?
We've made too many mistakes collectively, as a team. We've made too many mistakes individually, more so in the last game. We've obviously gone back through the games and reviewed them. If there's a consistency to those mistakes and that's something we can really focus and work on and that's something which we did in the lead-up to the last game. 
But with individual mistakes, they do happen, and you hope that when they happen, they don't happen as often as they did in the last game in particular. So, across the context of nine games, we've had a lot of changes, and I think we've played some extremely good football. Now, it's just about finding that balance and making sure that whether the collective or individual mistakes don't end up in the back of our goal.
Most of the goals and assists have been coming through Ahmed Jahouh and Igor Angulo. Would you say that the team is being over-reliant on these two?
No, I wouldn't say so. Igor was brought here because he was the leading goalscorer and that's a target for him again this year. So, he's been doing his job well. Jahouh continued on from where he left last year.
But if you look across our team, we've had goals and assists come from Bipin Singh, Vikram Singh, Cassio Gabriel apart from those two. So, I wouldn't go far as to say we're relying on those two players when you break down the statistics of the goals and where they came from. It's more round-sided than that.
You mentioned having to maintain focus for a longer period of time. What do you think breaks that focus and how hard is it to get it back?
In any game, there's key moments that can change the momentum, and that same momentum is recognized in those moments, taking those chances at important times. It's making sure that when you recognize you can't have control of the game for 90 minutes as much as you want to, momentum does shift.
And sometimes the scoreline doesn't always reflect that. There are times in the game when you may not have momentum and it's important to recognize those moments and we will come through those moments a bit better than we have been doing. We're going to help contribute and complement the attacking football that we find.