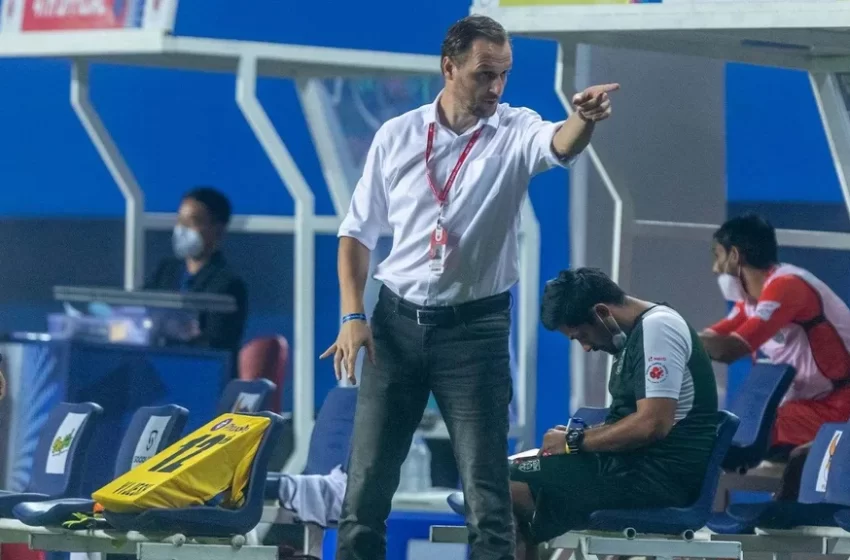 Image ISL
We Must Keep Fighting
Kerala Blasters FC head coach Ivan Vukomanovic was delighted to have recorded a win over an extremely difficult opponent in Hyderabad FC but refused to get carried away by his team's position in the table.
Alvaro Vazquez's strike in the first half helped Kerala Blasters FC beat Hyderabad FC 1-0 and climb to the top of the Hero ISL standings.
Vukomanovic felt happy for his players and for the fans but warned his players against any kind of complacency.
The Serbian spoke to the media after the match.
Here are the excerpts from his post-match press conference:
Top of the table with the win today. How difficult was the match? How do you feel?
I think that tonight we played against one of the best teams in the league. I think that we played against one of the best organised teams in the league. Well balanced, the team was working consistently for a while since last year. I think that they have a great team. It's a team that is very tough to beat and we are happy because we managed that tonight, and we managed not to concede a goal.
Speaking about the table position, we are not occupied. And we are not busy with all these statistics, because we have to know, we have to be honest that there are still ten more games, there are still 30 points to collect, to fight for. For us, every game is like a final. For us, every game is like a fight. And we have to continue like that. That's the only way that we can collect points. That's the only way that you can survive in this league at the top. So we will try to do our best in the second half of this competition, it will be very tough because I think that many teams will now be reorganised, every game for us will be tough like today.
So, of course today with these three points, we are very happy. I'm very proud of these boys. I'm very happy for the fans, because I hope they enjoyed tonight.
You had less of the ball and fewer shots than Hyderabad FC. Was the plan to be clinical when you get an opportunity?
Exactly, because we knew that from ball possession standards, we could have less ball in our possession. But you know in football, that's not the main statistic that will give you a guarantee to win the game.
We wanted tonight to press them high in one certain part of the pitch. We wanted to recover the ball in part of the pitch. We wanted to be clinical in our transition, we had created many chances like that. I think in the first half even a second call we had these moments and then we were missing that efficiency or the last pass in the box where we could have even scored more goals. But anyway we should be happy with three points, that's the only thing that counts.
We have to continue the hard work. We are a new team and have many new things, many new details, a new approach and we are trying to build up for the future, so hopefully we will stay healthy especially now in very difficult situation with Covid-19, we want to stay on correct fitness level because for us every game will be fight. We have to fight every game, we have to fight for the points because for us every game will be like a final.
Was the Harmanjot Khabra substitution a tactical one or was it due to an injury?
He got a really unpleasant kick and a cut in his calf and probably he could have continued for a couple of minutes more, ten minutes more but from the medical part and also from the coaching part if you are in this kind of game, small details can make difference.
And from our side also because Khabra is a very important player for our dressing room, for our team. We didn't want just to throw him to the lines and get them even more injured. So, sometimes it's better to anticipate and to treat him now with ease than to get them injured even harder. So for us it was from both sides.
Seityasen Singh who is on loan from your club at Hyderabad FC played against you. What do you make of his performance?
Well, I think since we started, Seityasen is a very important player wherever he is playing. This is the guy with a great mindset, great mentality, great team character.
From one side, I'm sorry that he quit our club that he went on loan to Hyderabad. From the other side, of course, it was his choice because he wanted to get even more playing time. So you know sometimes there are situations that you can't choose but you are chosen by the situation. So that was a decision and I'm happy for him. I happy for him that he will get even more playing time if it's the case. And of course, because he's a great guy. I like him a lot. I wish him all the best for the future.