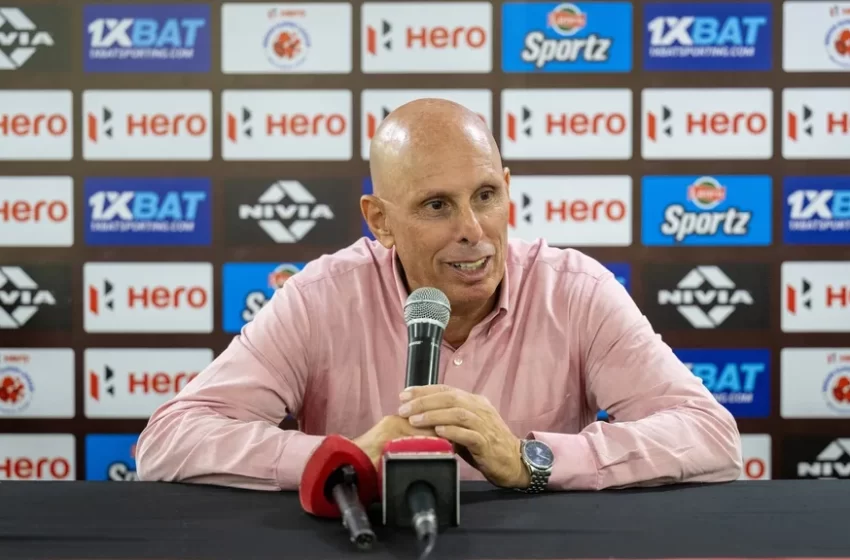 "We are still finding our feet, we're still trying to find the right balance"Constantine
East Bengal FC picked up their first win of the Hero Indian Super League (ISL) 2022-23 season as they came out victorious over NorthEast United FC in a bottom of the table clash at the Indira Gandhi Athletic Stadium, in Guwahati, on Thursday.
Constantine was delighted with his side's performance where they won 3-1, with new signings Cleiton Silva, Charis Kyriakou, and Jordan O'Doherty all on the scoresheet. The 60-year-old spoke about working on set-pieces, the upcoming Kolkata Derby, and more in the official post-match press conference.
The head coach heaped praise on his side and remained optimistic about the Red & Golds only getting better from here on.
Here are the excerpts from Stephen Constantine's press conference:
You won your first Hero Indian Super League game of the 2022-23 season. Do you feel this ground is somewhat lucky for you?
lot has been said about the first two games and how we have played. We are still finding our feet, we're still trying to find the right balance. We played well for periods in the first game against Kerala Blasters FC, then in the second half against FC Goa we played really well. Today we started well and finished well, I am very proud of the boys. The performance was good and it was a great win. Now that we've got that out of the way we look forward to the next game.
It is the second game running and you have conceded a late goal. Do you feel that is an area you still need to work on?
Honestly, we are upset to have conceded a goal from set play. But look it was three-nil and everyone looked tired with the game as good as done. It is a silly lapse in concentration, but it is a little blemish if you like three-nil better than three-one but it's okay, not much concerned about it.
You said in every game your team will keep getting better. Will you say today was a start or something close to that?
No, it started in the first game of our Hero ISL season. We faced Kerala Blasters FC and for 70 minutes, we were good enough to prevent them from scoring, and later we lost our shape and they scored. Against FC Goa, we were very good in the second half, not so much in the first half. But, it is a process where you cannot produce winning teams in two, three, four or five games. This takes time and I know people might bring this up as an excuse, but it is not an excuse, it is a fact. If we look all over the world how long it takes teams to build, we are in that stage of rebuilding. This was a great win for us. Am I happy? Yes. Are we the finished article? Absolutely not, there is plenty more to come and we will continue to improve.
The upcoming fixture is the Kolkata Derby. Will this result give confidence to the boys ahead of the much anticipated Derby?
When you win a game, you definitely feel better about yourselves. The message is slowly but surely being understood and in a derby, those are the type of games where anything can happen. So, we are looking forward to it and are confident.
Your thoughts on tonight's opponent, NorthEast United FC?
I saw them play in the first game against Bengaluru FC, they absolutely deserved a draw. They played very well, they are hard-working. They are also in the rebuilding stage themselves. Marco Balbul (NorthEast United FC head coach) has a very tough job, and so do I. We won a game today and the three points, but that is what it is. It doesn't mean that we are a top team, or we're going to be in the top six, or we're going to beat everybody. We did our job tonight and I am going to enjoy it.
Tomorrow, we start getting ready for the derby. Marco Balbul and his players gave a good account of themselves. They were a little bit unlucky to concede in the beginning of the first half, and again in the beginning of the second half which is always a bad time to concede and then you start playing catch-up. But they were going forward right till the end as we all saw. They were trying to play and they got their goal. They have some work to