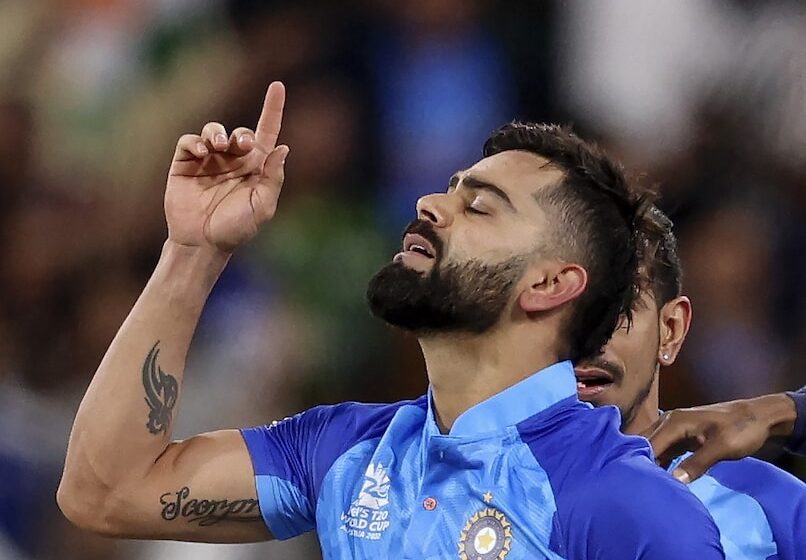 Virat Kohli's birthday: 5 lesser-known facts about King Virat Kohli
Virat Kohli turns 34 on November 5. Be it for scoring the most number of double centuries in consecutive Test series or scoring the fastest 1,000 runs in ODIs, Kohli has a flair for setting new records. Over the years, he has recharged Indian cricket with leadership, talent, and discipline.
VK, just not a Cricketer, he is a bundle of Life Changing Lessons :
About a year ago, the outside noise was loud, critics all across the globe said that Virat might be the Greatest Of All Time (G.O.A.T), but he doesn't deserve a place in the Indian T20 Team. Despite all the outside noise, Indian Team Management & BCCI kept supporting the living legend.
Just before the Asia Cup 22, when Virat took 50 days rest, critics started bashing him. King came back stronger in Asia Cup 22, but that was not enough to quench the thirst of the critics, and they yet questioned him for his Run rate and utility in the Indian team ahead of the T20 WC.
It was the first match of Indian team in this WC, stage was set, India was facing their Arch-Rivals in their opener game. After the amazing first inning , Indian team was in deep trouble (31 Runs for 4 Wickets) while chasing the target, it looked like the history of 2021 T20 WC was repeating itself, but the Gods were busy writing a different story for the King.
It was 28 runs in 8 balls when the ach rivals thought they have won the match against India, but they forgot that on the other hand a storm was coming, a beast was unleashing Himself, he roared like a Lion, his 82 not out not only took the victory from opponents mouth but also forced ICC to post on their official handle, " THE KING IS BACK". It is said that, "When ever the Lion is hungry, never go around him" and this time the hunger for runs and the victory of team india, this lion has scored 220 Runs with the average of 200 with 3 fifties in 4 matches cruised Indian team to be the table topper.
Today the King is Turning 34 and as we all know, "age is Just a Number", Virat is one of the Fittest athletes on the planet. He has almost every record under his belt and has everything that a middle-class boy could dream of, but to achieve all these things the Road was never so easy. On his birthday let us give him the Greatest gift by taking inspiration from his life lessons and journey.
Dedication :
It was back in 2006 when Delhi was facing Karnataka in Ranji trophy Game, a young 18-Year-old Delhi boy was standing tall at the day's end of the game with 40 not out. Later in the evening, he lost his father due to a heart stroke. Despite the biggest loss of his life, this 18-year-old young chap stood strong and played the next day and lost his wicket when he scored 90 runs and took his team to a safe total. After this inning, he went for the final rituals of his Father.
Their dedication to his work and commitment at that early age is something we can never dream of.
Never Give Up:
This isn't the first time Virat went through a rough phase in his cricket career. Back in the year 2014, was among the worst phase in his career. He was young and his career was in the building stage. The blow of 2014 could have ended him forever, but his ability to take the challenges and his attitude of Never giving up, always made him stronger. His ability to create opportunities in every problem makes him the G.O.A.T. He simply NEVER GIVES UP in any situation.
Commitment :
Once asked in an interview, if Virat had one cheat day what would eat? To that, he smiled and said, "CHOLEY BHATURE". said many times his metabolism is slow, and the food he eats reflects on his body. Simply VK is amongst the fittest athlete but for that, he gives credit to his Sheer commitment. From the time of his professional career, he neither missed his diet, his workout nor his daily schedule.
We all try to achieve a lot of things in our life but we miss the commitment that King Puts in.
Family Matters :
Virat usually has an occupied yearly calendar. Tours, practice, and games, keep him away from his family, but whatever time he gets or the time he can take out, he can simply be seen around his family. When the Indian team was touring Australia last year, he took y leave and stood beside his wife on the birth of his daughter. He never missed proving that he is a perfect family man.
Mental Health :
Very few of us talk about mental fitness and mental health but it was Virat who took 50 days of leave as he said he was badly exhausted and he was faking his intensity in-game and was not able to enjoy the game. It was criticized by the expert but Virat did not listen to them and from the time he came back to Asia Cup 2022, he scored 7 fifties and 1 century in the T20 format and stood as the highest runs scorer in the ongoing T20 WC. To enjoy our work we should always keep our mental health first.
If we can cherish and take some inspiration from his life lessons we can simply achieve every dream we can think of, and nothing can be a better gift as a fan to his super start that this.