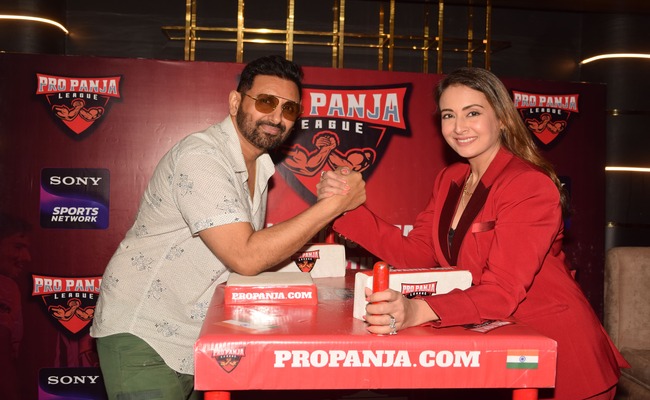 Pro Panja League organises thrilling exhibition in Mumbai
Pro Panja League organises thrilling exhibition armwrestling match in Mumbai. During the exhibition event, co-founder Mr Parvin Dabas opened up on his reasons behind picking Panja as a sport ~ With just over three weeks left for the start of the inaugural season of the Pro Panja League, Asia's biggest armwrestling promotion, co-founders Mr. Parvin Dabas and Ms. Preeti Jhangiani organised an exhibition match between two of Maharashtra's biggest Panja prospects – Tawheed Shaikh from Aurangabad and Mumbai's Harshit, for a selected gathering.
The intense bout went for full three rounds with Tawheed, who had beaten Karaj Singh Virk in the Men's 90kg Weight Category final at the Pro Panja League Ranking Tournament 2022 in Gwalior, picked up a clear and decisive 2-0 win.
Speaking after the bout, Tawheed said that he is a bit nervous but also extremely excited about the start of the league. "Pro Panja anthem has a slogan – 'Aapki Kismet, Aapke Haath'. I cannot wait for the league to start on Sony Sports Network. Armwrestling is an intense sport and it is important to maintain your calm against your opponent and not get intimidated by them. I hope to perform well and keep control of my nerves on the big stage," Tawheed Shaikh said.
Pro Panja League, which will be hosted at the IGI Stadium in New Delhi between July 28 and August 13, has already captured the attention of audiences with its unique format. Six teams of 30 players each will compete across 10 weight divisions comprising of 6 men's, 3 women's and one physically challenged categories. The first two teams – Mumbai Muscle owned by Mr. Punit Balan, and Kiraak Hyderabad owned by Mr. Gautam Reddy – have already been announced.
Read More: LaLiga: Top 10 stories from Laliga
After the exhibition match, Pro Panja League co-founder Mr. Parvin Dabas opened up on the reasons why he decided to bring the sport of armwrestling on such a grand platform.
"I was always into combat sports and I really enjoyed Mixed Martial Arts. But when I wanted to start a sports promotion, I wanted to pick a sport which masses would love, and which has an Indian name as well. I also realised that Indian audiences do not enjoy too much bloodshed. Panja or armwrestling, I felt, has a resonance with the masses in India, and it is a family-friendly sport. It can be understood by everyone and it has a very low financial entry point, unlike most other sports. All you need is a table, and once you see the table, it is very addictive," Mr. Parvin Dabas said.
Pro Panja League, has taken a unique approach to develop the market before the inaugural season and has hosted several promotional shows and Ranking Tournaments across India since its inception in 2020. With shows across Gwalior Fort, Gateway of India, Mumbai, and Majestic Pride Casino Boat in Goa, Pro Panja League has already garnered over 275 million social media views over the past 10 months.
Pro Panja League co-founder Ms Preeti Jhangiani explained how the promotion and the league has changed the lives of armwrestlers in India. "Before Pro Panja League, the armwrestlers were leaving the sport. But since we came on in 2020, and we promised a platform to the armwrestlers, there has been a resurgence. The athletes are coming back to the sport and the passion has been rekindled. People want to watch Panja and our social media numbers showcase there is a massive audience for the sport, already," Ms Preeti Jhangiani said.