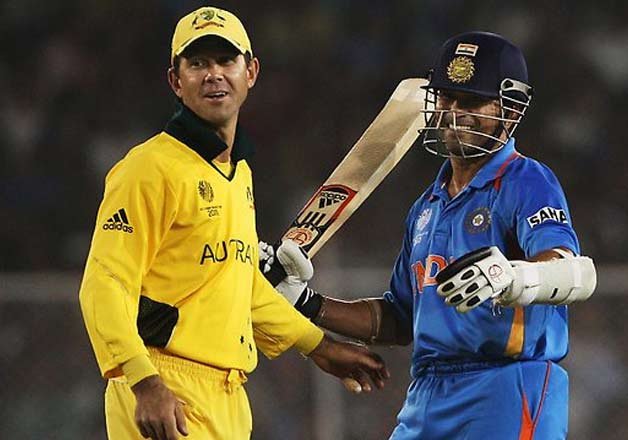 ricky ponting-sachin tendulkar
Ponting reflects on Tendulkar's greatness and Kohli comparisons
Former Australia captain Ricky Ponting has had his say where he believes Sachin Tendulkar sits in the pecking order among the best players of all-time, and how the India legend compares to modern-day great Virat Kohli.
Tendulkar is one of few players in the history of the game with a resume that can match or rival Ponting, with the India maestro still maintaining his place as one of the best batters ever and holding the distinction as the highest run-scorer of all-time in both ODI and Test cricket.
Ponting spoke with host Sanjana Ganesan on The ICC Review just prior to Tendulkar's 50th birthday on April 24 about where he rates the India legend and the Australian did not hold back with his assessment of the former star player.
"I've said forever Sachin's technically the best batter that I've ever seen, and played with or against," Ponting remarked.
"Whatever plan that we came up with as a bowling group, he found a way to combat it, whether it was in India or Australia.
"It's hard to rank and judge players as everyone is different and everyone plays the game differently.
"But certainly through the generation that I played, he was technically the best player that I saw."
Ponting recalled a brilliant innings of 241 that Tendulkar made against Australia at the SCG in 2004 as one of his standout knocks and had no hesitation in nominating the right-hander's straight drive as his most potent shot.
"I think his straight driving was his best shot," Ponting said.
"Whether it be on front foot or even back foot – because he was short in stature, he won't mind me saying that – he was able to sort of stand up on top of the bounce of the ball and punch it back down the ground, off the front foot or back foot.
"The trademark things you think about with Tendulkar was just seeing the full face of that bat coming straight back down the line of the ball and straight back past the bowler. So I think that'd be his trademark for sure."
But when asked who he would choose out of Tendulkar and Kohli, Ponting was a little more circumspect.
The Australian said it was extremely hard to compare players of different eras and noted that rule changes in recent times had made it easier for modern-day batters to score more freely.
"Trying to compare the times and I know Virat played a little bit in the back end of that Sachin played, but it is a bit of a different game now," Ponting noted.
"There's different rules, for instance, around 50-over cricket, with less fielders outside the circle. Two new balls. I think it makes it a lot easier now for batting than probably ever before. There's no doubt that the bats have got better. Field restrictions and new balls is a big part of it as well.
"When Sachin was playing ODIs, the ball at the end of a 50-over game was very hard to see. It was very soft. It was very hard to hit, it reverse swung. You
don't see that at all in the modern 50-over game.
"I always like to judge the quality of players on their longevity in the game. I think that's the best way to judge players because maintaining such a higher level of excellence for so long is the hardest thing to do. Some players can come in and do it for three or four years and look like the best players in the world, but the very, very best sustain it for long periods of time and Sachin sustained it for more than 20 years at the international level."
Ponting said a comparison between the two run machines may be easier to make once Kohli finishes his career.
"To play 200 Test matches (like Tendulkar) within itself is an unbelievable feat," Ponting added.
"Regardless of how many runs you make, how many hundreds you make, to be physically good enough and have a skillset set good enough to stand up and play 200 Test matches is amazing.
"Virat's got all that ahead of him just yet. He's an unbelievably good player, there's no doubt about that. He's got over 70-odd international hundreds now. Sachin made a 100, didn't he?
"Let's wait until Virat's career's over and then I think it'll a much fairer comparison."