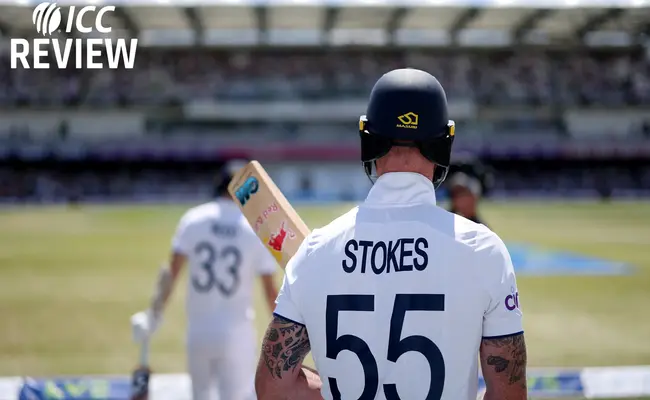 Ponting predicts England to make bold changes in Manchester
ustralia great Ricky Ponting has used the latest episode of The ICC Review to predict England's XI for the fourth Ashes Test in Manchester and warned his former side to be ready for a bold tactical change that Ben Stokes may use as they try to level the series.
England stayed alive in this year's race for the Ashes with a rousing three-wicket victory in Leeds and will be looking to replicate that performance when the fourth Test gets underway at Old Trafford on July 19.
Pacer Ollie Robinson picked up a back injury on the opening day of the third Test but Ponting believes England should retain the same XI they used at Headingley should the right-armer prove his fitness for Manchester.
Read More: India name women's squad for Asian Games
"I think I would keep it (the England XI) exactly the same," Ponting told host Sanjana Ganesan on the latest episode of The ICC Review.
"I know it's James Anderson's home ground. I mean that's the one they might think about – Anderson for Robinson maybe as Anderson's had that week off, freshens up and goes to his home ground.
"I wouldn't be changing too much if I was England but that would be the only one I'd think about, would be Anderson in for Robinson."
If he doesn't play, what does it mean for James Anderson?
With Stuart Broad at the peak of his powers this series, Mark Wood and Chris Woakes making a strong impression at Headingley and the likes of Josh Tongue and Matthew Potts putting pressure on their more experienced compatriots, the legendary Anderson is at risk of falling down the pecking order for England.
But Ponting thinks it's too early for Anderson to finish his career – even if not selected for the fourth Test – and he would expect to see the right-armer back in action for England again.
"I'm not going to write him off," Ponting declared.
"He has been pretty forward in talking about he hasn't just hasn't quite felt it he's absolute best at the start of the summer. He also said it's only been two Test matches in a row and he couldn't remember having two really lean Test matches like that in the past and he's played 180 of them – which is remarkable within itself – but unfortunately everyone's career comes to an end at some stage and it's going to be dependent on how well these youngsters keep going.
"If Wood keeps going like he is, I mean Woakes is no youngster but Tongue looked really good, Potts is there in the pipeline as well so they've got a few there now that look quite reasonable, so, the day will come but I'm not going to write him off just yet."
Another new No.3 at Manchester?
With first-choice No.3 Ollie Pope missing due to injury, England promoted Harry Brook to come in at three during the first innings at Headingley and then surprised many when all-rounder Moeen Ali was used in that spot in the second innings.
Neither player managed to make it to double figures while batting in that unfamiliar position and Ponting thinks Stokes may choose to insert himself at No.3 in Manchester.
"I actually thought that Ben Stokes might have batted himself at number three at Headingley when I realised that Pope was out and Moeen and Woakes came back in," Ponting said.
"To me he's got the technique to survive at the top and Moeen hasn't. We saw that in the second innings.
"I'm not sure if Harry Brook is ever going to be a top-order Test match batsman. I think he's always going to be a four, five or six type batter with the way that he plays.
"I thought the opportunity was there for Ben because a lot of the time with Stokes and, you know this is no knock on him whatsoever as he's a terrific player, but a lot of the time he's got to come in and play a Mr Fix-It role when it's almost like a damage control sort of role where I've always felt that if he batted at No.3 then he could sort of stop some of that damage with the technique that he's got.
"And the fact that he's probably not going to bowl if they go in with the same bowling attack, he's probably not going to bowl in the Test match, so it gives him a chance to be fresher to bat up the order. So that would be something that I'd be thinking about if I was England and certainly something that Australia should be ready for."
Bairstow retained as Foakes remains on the outer
While England veteran Jonny Bairstow has managed just 141 runs with the bat during the Ashes so far, it has been his performances behind the stumps as wicket-keeper that has raised concern among England fans and some pundits.
Bairstow has grassed a handful of regulation catches this series and Ponting is surprised that fellow keeper Ben Foakes has not been given an opportunity – or even named in England's squad for the fourth Test.
"I am a little bit surprised actually," Ponting said.
"I mean I am and I'm not because I know how much (coach) Brendon (McCullum) will be in Jonny Bairstow's corner and I know Ben Stokes will also be in his corner.
"They won't want to make changes to their team that they don't have to make. They've already made those changes for Headingley and if they made another change for Manchester, it could just be a little bit unsettling on the back of winning a Test match.
"But some of the things that worried me with Jonny during the last game was his reluctance. There was a ball that went up that Harry Brook caught that he was really reluctant to go after, which was a pretty straightforward run under high ball catch for the keeper. He sort of opted out of that and made the fieldsman catch it. Obviously, there was an easy one down the leg side that he dropped early in the game as well.
"There are some signs there and he's put a lot of chances down in the series and probably so far a lot of catches haven't gone on to cost England too much just yet. But if he keeps putting them down at some stage it's going to cost them and it could be the difference in the Ashes. So, you know knowing the personalities there with their leadership with Brendon and Ben, I'm not surprised. But the fact that he's dropped so many chances, I am a little bit surprised that he stays in."