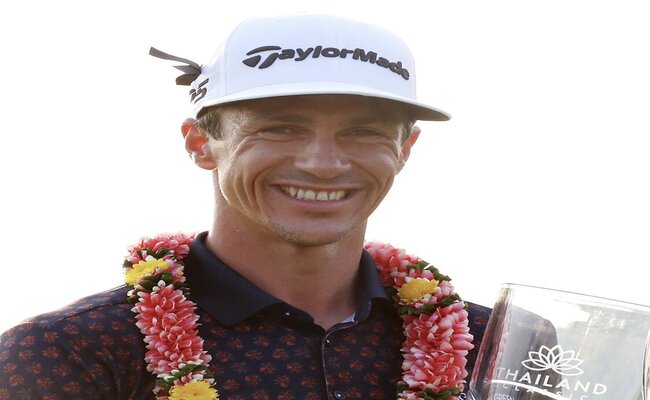 Olesen aims for back-to-back wins, faces strong in-form rivals at Hero Indian Open 
Continuing to build on what had been a good season till last week, Thorbj­­­­­ørn Olesen turned in a dominating performance to win the Thailand Classic and break into the Top-five of the DP Tour's Race to Dubai rankings. He also broke into the Top-100 after a long time following the win, after having reached a career-high 33rd ranking in 2013.
Olesen will be here gunning for back-to-back success for the first time in his career as he tees up in India for the first time at the US$ 2 million Hero Indian Open, which is being staged at the DLF Golf and Country Club from February 23.
Olesen is part of the large Danish contingent, which is hoping to make its presence felt this week. No Dane has won the Hero Indian Open since it was first held in 1964.
Olesen is not the only one to feel confident after a fine win in Thailand. Among the top four from Thailand Clasic, Yannik Paul of Germany was sole second, while Alexander Knappe, who won twice on the Challenge Tour, and Joost Luiten, a six-time winner on DP World Tour, were tied third. In addition, Nicolai H­­­­­øjgaard was tied fifth and Jeunghun Wang, a three-time winner on DP World Tour was eighth. Wang returned to golf and the Tour in July 2022 after doing his national duty in military service and is keen to add to his kitty. Wang, once ranked as high as 39th in the world, has recent Top-10 finishes in Singapore (T-3) and Thailand (8).
In the Hero Indian Open, now carrying a record purse of US$ 2 million, Olesen will have a lot of company from his country. His friend and mentor, fellow Dane Thoms Bj­­­­­ørn is here as is Nicolai H­­­­­øjgaard. Nicolai along with his twin, Rasmus, is considered by many as one of the best prospects to emerge from Europe in recent times.
While India will have the most participants, there is a strong Danish contingent led by veteran Bj­­­­­ørn, there will be a host of Danes in India this week. The others are Soren Kjeldsen, who has four DP World Tour wins; Nicolai H­­­­­øjgaard, who at 21 has already won twice; Lucas Bjerregaard, who has won twice; Jeff Winther, a one-time winner; Martin Simonsen, Cristoffer Bring and John Axelsen.
Olesen had a fine start in 2023 at the Hero Cup and was in the Top-20 at Abu Dhabi and Hero Dubai Desert Classic, before finishing Tied-4th in Ras Al Khaimah. In Thailand, he won his seventh DP World Tour title and the first since his Betfred British Masters last year.
Olesen, keen on getting into the Ryder Cup team stayed in the sub-100 zone till 2019 before falling. The Covid period was not kind as he dropped beyond 400. He has now started recovering his rankings and the Hero Cup was his first step towards it and he is now building on it.
Speaking on the experience of the Ryder Cup, Olesen, who will visit India for the first time, said, "I've tried it in Paris and had that experience. You would love to come back and play more Ryder Cups. It's going to be very difficult but this is certainly a very good start to try and get into that team."
"It's (the win in Thailand) very special. The one at the British Masters was incredible, with my family and a long time since the last one. But equally this one, all the hard work, the sacrifice for my wife. It's really nice."
Speaking about the change in his fortunes and the game, Olesen said, "Being a father definitely keeps your mind off golf and keeps you busy at home. Before that I could do my own thing, now I have to look after the kids. It's been fantastic. My partner is very good and does a lot of stuff. It's definitely changed my life for the better."
On the matter of so many young Danes coming up, he added, "It's unbelievable. The last three or four years there's so many Danes coming up. The twins (Nicolai and Rasmus) have so much talent and have shown that already. It's very impressive for a country like Denmark. It's not ideal with the weather, only five and a half million people. But I think we're good at really grinding it out. When you have goals and work hard for it, it pays off. It's really impressive and something I'm proud of."