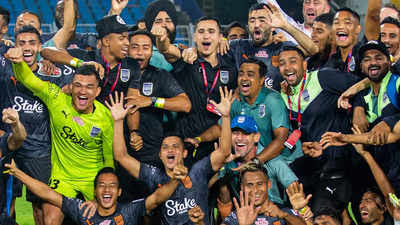 Mumbai City bag ISL Shield with 5-3 victory over FC Goa
Mumbai City FC clinched the Indian Super League (ISL) Shield 2022/23 with a stellar 5-3 win against FC Goa away from home. This is the second time that Mumbai City FC have been crowned ISL Shield winners after winning the trophy back in the 2020/21 season. Since the start of the season the Islanders have been in phenomenal form and are still unbeaten in the league winning 14 matches and drawing 4 games. The Islanders also went on a remarkable 11 game winning run during the season which was kicked-off by a 6-2 win against Chennaiyin FC away from home and came to an end in the recent home game against Hyderabad FC that ended in a 1-1 draw.
The Islanders have showcased an astute defensive acumen throughout the season as they have only conceded 18 goals in the campaign till now and kept 7 clean sheets. The likes of Mehtab Singh, Rostyn Griifiths, Mourtada Fall, Rahul Bheke and Vignesh supported by Mandar Rao Dessai and Sanjeev Stalin have made the Islanders an almost impregnable unit in defence this campaign. Goalkeeper Phurba Lachenpa has been an ever-present figure in the Mumbai City FC defensive unit as his resolute performances in goal have allowed the Islanders a very strong foundation to build on in every match this season.
Midfielders Ahmed Jahouh, Apuia Ralte, Alberto Noguera and Vinit Rai have also made vital contributions to the attacking possession style of Mumbai City FC this season. Their versatile skill set has allowed the Islanders to dominate and control possession in each game. The creativity and industry the Islanders midfielders have exhibited this campaign has allowed Coach Des Buckingham to tweak his tactical setups seamlessly especially in tough games this season in which the midfielders have put in classy displays with and without the ball.
Pundits and fans alike have been running out of superlatives for the Islanders exceptional form this season that has seen them score a record breaking 53 goals in 18 matches so far. Jorge Pereyra Diaz, Lallianzuala Chhnagte, Bipin Singh and Greg Stewart have supercharged the Mumbai City FC attack as the front four have showcased a marvellous understanding in attack throughout the season. Especially the performances of Chhangte and Bipin on the Islanders flanks has seen them being dubbed not just the best Indian players in the ISL this season and the future of Indian football, but superstars that can capture the imagination of football fans across the globe.
Coach Des Buckingham reacted to the Islanders securing the league title by saying, "I am very emotional as you can probably see. What's been achieved so far, I'm so proud of the way we went about and what we've done, the support that this club has given me personally and support that they've given the players, especially over the last 18 months has been huge and to achieve the league title in the manner which we have and break the records we have, I'm so proud of what we've done! and to do It in style that we just have there's no better thing than that."
He concluded by talking about Mumbai City FC's performance in the stellar 5-3 win against FC Goa away from home as he said, "It probably sums up the way that we play and want to play and I would never want to concede three goals. But, you know, I've spoken about bringing an attacking brand of football to this club and building this style, you know which was on showing under the lights tonight against a very tough Goa team who were clearly fighting for points for the playoff spots. They didn't make it easy for us, but again, we had to find a different way to win the game. To look back over now at 18 games with still two to go, but to look over 18 games and see the football we've played. See the points we've amassed. See the records that have been broken and to come here and win the to win the Shield is a huge achievement for everyone involved with our club. From the players to the staff to the fans and I'm incredibly proud of what we've done in 18 games and without dragging it back down, we still got two very important games that we want to finish the season off with in positive fashion. "
With two games left to play this season the Islanders would be looking to end the league campaign with the tag of 'Invincibles' as they are set to take on Bengaluru FC away from home and East Bengal at home in their last game of the league this campaign